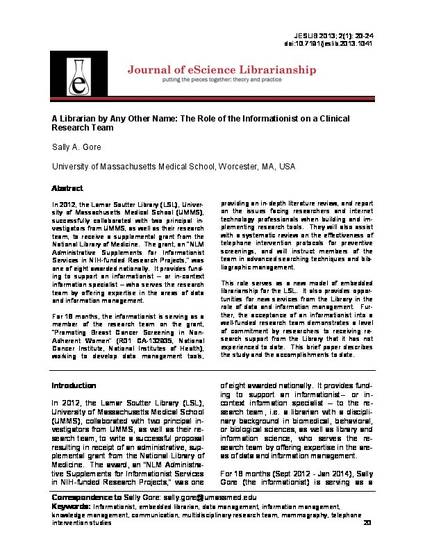 Article
A Librarian by Any Other Name: The Role of the Informationist on a Clinical Research Team
Journal of eScience Librarianship
Article Type
EScience in Action
Publication Date
2013-5-2
DOI
10.7191/jeslib.2013.1041
Abstract
In 2012, the Lamar Soutter Library (LSL), University of Massachusetts Medical School, successfully collaborated with two principal investigators at UMMS, as well as their research team, to receive a supplemental grant from the National Library of Medicine. The award, an "NLM Administrative Supplements for Informationist Services in NIH-funded Research Projects", was one of eight awarded nationally. It provides funding to support an informationist, or in-context information specialist, who serves the research team by offering expertise in the areas of data and information management.
For 18 months, the informationist is serving as a member of the research team on the grant, "Promoting Breast Cancer Screening in Non-Adherent Women" (R01 CA-132935, National Cancer Institute, National Institutes of Health), working to develop data management tools, providing an in-depth literature review and report on the issues facing researchers and internet technology professionals when building and implementing research tools, assisting with a systematic review on the effectiveness of telephone intervention protocols for preventive screenings, and instructing the members of the team in advanced searching techniques and bibliographic management.
This role serves as a new model of embedded librarianship for the LSL. It also provides opportunities for new services from the Library in the role of data and information management. Further, the acceptance of an informationist into a well-funded research team demonstrates a level of commitment by researchers to receiving research support from the Library that it has not experienced to date. This brief paper describes the study and the accomplishments to date.
Keywords
Informationist,
Embedded Librarian,
Data Management,
Information Management,
Knowledge Management,
Communication,
Multidisciplinary Research Team,
Mammography,
Telephone Intervention Studies
Rights and Permissions
Copyright © 2013 The Author(s).
Creative Commons License
Creative Commons Attribution-Noncommercial-Share Alike 3.0
Citation Information
Sally A. Gore. "A Librarian by Any Other Name: The Role of the Informationist on a Clinical Research Team" (2013)
Available at: http://works.bepress.com/sally_gore/22/