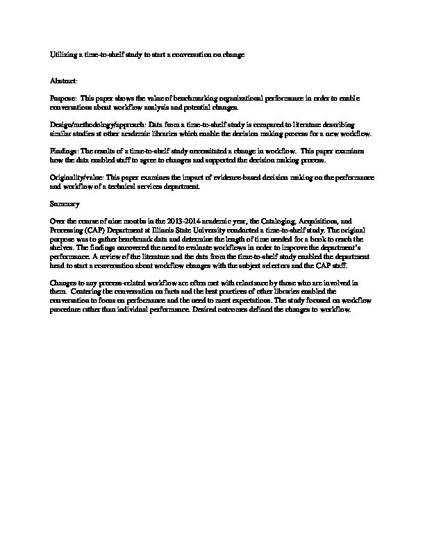 Article
Utilizing a Time-to-Shelf Study to Start a Conversation on Change
Performance Measurement and Metrics
Publication Date
1-1-2015
Abstract
Over the course of nine months in the 2013-2014 academic year, the Cataloging, Acquisitions, and Processing (CAP) Department at Illinois State University conducted a time-to-shelf study. The original purpose was to gather benchmark data and determine the length of time needed for a book to reach the shelves. The findings uncovered the need to evaluate workflows in order to improve the department's performance. A review of the literature and the data from the time-to-shelf study enabled the department head to start a conversation about workflow changes with the subject selectors and the CAP staff. Changes to any process-related workflow are often met with reluctance by those who are involved in them. Centering the conversation on facts and the best practices of other libraries enabled the conversation to focus on performance and the need to meet expectations. The study focused on workflow procedure rather than individual performance. Desired outcomes defined the changes to workflow.
Citation Information
Sally Gibson. "Utilizing a Time-to-Shelf Study to Start a Conversation on Change"
Performance Measurement and Metrics
(2015)
Available at: http://works.bepress.com/sally_gibson/2/