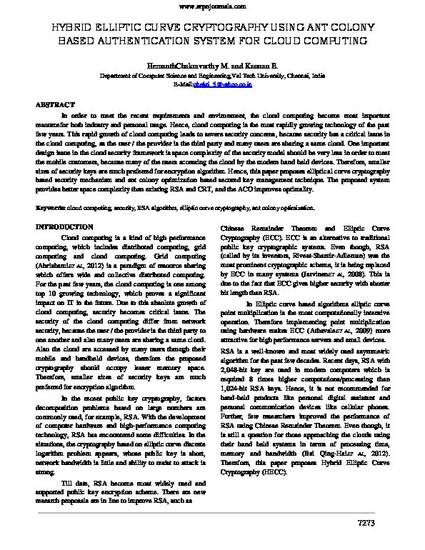 Article
Hybrid Elliptic Curve Cryptography Using Ant Colony Based Authentication System for Cloud Computing
ARPN Journal of Engineering and Applied Sciences (2015)
Abstract
In order to meet the recent requirements and environment, the cloud computing become most important resourcefor both industry and personal usage. Hence, cloud computing is the most rapidly growing technology of the past few years. This rapid growth of cloud computing leads to severe security concerns, because security has a critical issue in the cloud computing, as the user / the provider is the third party and many users are sharing a same cloud. One important design issue in the cloud security framework is space complexity of the security model should be very less in order to meet the mobile customers, because many of the users accessing the cloud by the modern hand held devices. Therefore, smaller sizes of security keys are much preferred for encryption algorithm. Hence, this paper proposes elliptical curve cryptography based security mechanism and ant colony optimization based secured key management technique. The proposed system provides better space complexity than existing RSA and CRT, and the ACO improves optimality.
Keywords
cloud computing,
security,
RSA algorithm,
elliptic curve cryptography,
ant colony optimization
Publication Date
September, 2015
Citation Information
HemanthChakravarthy M. and Kannan E.. "Hybrid Elliptic Curve Cryptography Using Ant Colony Based Authentication System for Cloud Computing"
ARPN Journal of Engineering and Applied Sciences
(2015)
Available at: http://works.bepress.com/sakshi-sharma/6/
Creative Commons license
This work is licensed under a Creative Commons CC_BY-NC International License.