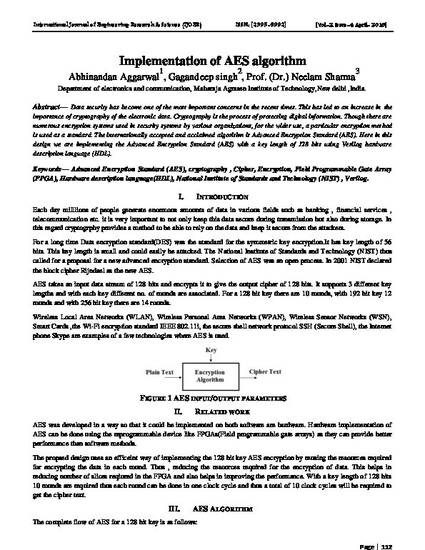 Article
Implementation of AES algorithm
International Journal of Engineering Research & Science (2016)
Abstract
Data security has become one of the most important concerns in the recent times. This has led to an increase in the importance of cryptography of the electronic data. Cryptography is the process of protecting digital information. Though there are numerous encryption systems used in security systems by various organizations, for the wider use, a particular encryption method is used as a standard. The internationally accepted and acclaimed algorithm is Advanced Encryption Standard (AES). Here in this design we are implementing the Advanced Encryption Standard (AES) with a key length of 128 bits using Verilog hardware description language (HDL).
Keywords
Advanced Encryption Standard (AES),
cryptography,
Cipher,
Encryption,
Field Programmable Gate Array (FPGA),
Hardware description language(HDL),
National Institute of Standards and Technology (NIST),
Verilog
Publication Date
April, 2016
Citation Information
Abhinandan Aggarwal, Gagandeep Singh and Neelam Sharma. "Implementation of AES algorithm"
International Journal of Engineering Research & Science
(2016)
Available at: http://works.bepress.com/sakshi-sharma/3/
Creative Commons license
This work is licensed under a Creative Commons CC_BY-NC International License.