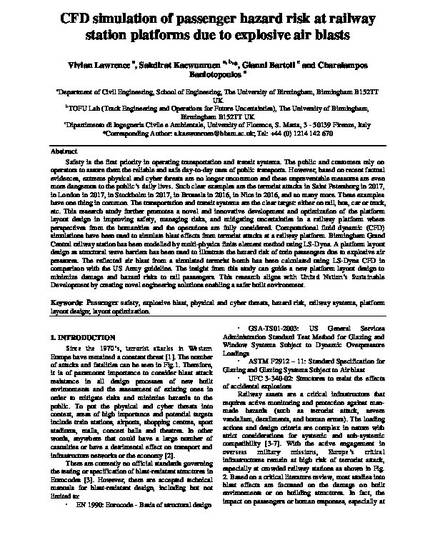 Article
CFD simulation of passenger hazard risk at railway station platforms due to explosive air blasts
The 4th Thailand Rail Academic Symposium (TRAS 2017) (2017)
Abstract
Safety is the first priority in operating transportation and transit systems. The public and customers rely on operators to assure them the reliable and safe day-to-day uses of public transports. However, based on recent factual evidences, extreme physical and cyber threats are no longer uncommon and these unpreventable measures are even more dangerous to the public's daily lives. Such clear examples are the terrorist attacks in Saint Petersburg in 2017, in London in 2017, in Stockholm in 2017, in Brussels in 2016, in Nice in 2016, and so many more. These examples have one thing in common. The transportation and transit systems are the clear target: either on rail, bus, car or truck, etc. This research study further promotes a novel and innovative development and optimization of the platform layout design in improving safety, managing risks, and mitigating uncertainties in a railway platform where perspectives from the humanities and the operations are fully considered. Computational fluid dynamic (CFD) simulations have been used to simulate blast effects from terrorist attacks at a railway platform. Birmingham Grand Central railway station has been modelled by multi-physics finite element method using LS-Dyna. A platform layout design as structural wave barriers has been used to illustrate the hazard risk of train passengers due to explosive air pressures. The reflected air blast from a simulated terrorist bomb has been calculated using LS-Dyna CFD in comparison with the US Army guideline. The insight from this study can guide a new platform layout design to minimize damage and hazard risks to rail passengers. This research aligns with United Nation's Sustainable Development by creating novel engineering solutions enabling a safer built environment.
Keywords
Passenger safety,
explosive blast,
physical and cyber threats,
hazard risk,
railway systems,
platform layout design,
layout optimization
Publication Date
August 31, 2017
Citation Information
Lawrence, V., Kaewunruen, S., Bartoli, G., Baniotopoulos, C., (2017) CFD simulation of passenger hazard risk at railway station platforms due to explosive air blasts, The 4th Thailand Rail Academic Symposium (TRAS 2017), Khao Yai, Pakchong, Nakhon Ratchasima, Thailand, August 31 – September 1, 2017. https://www.tras2017.com/
Creative Commons license
This work is licensed under a Creative Commons CC_BY International License.