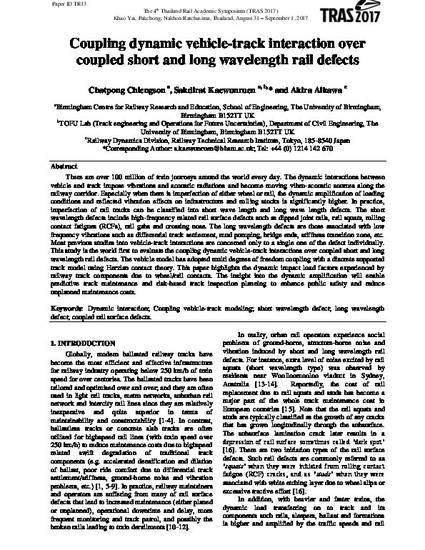 Article
Coupling dynamic vehicle-track interaction over coupled short and long wavelength rail defects
The 4th Thailand Rail Academic Symposium (TRAS 2017) (2017)
Abstract
There are over 100 million of train journeys around the world every day. The dynamic interactions between vehicle and track impose vibrations and acoustic radiations and become moving vibro-acoustic sources along the railway corridor. Especially when there is imperfection of either wheel or rail, the dynamic amplification of loading conditions and reflected vibration effects on infrastructure and rolling stocks is significantly higher. In practice, imperfection of rail tracks can be classified into short wave length and long wave length defects. The short wavelength defects include high-frequency related rail surface defects such as dipped joint rails, rail squats, rolling contact fatigues (RCFs), rail gabs and crossing nose. The long wavelength defects are those associated with low frequency vibrations such as differential track settlement, mud pumping, bridge ends, stiffness transition zone, etc.    Most previous studies into vehicle-track interactions are concerned only to a single one of the defect individually. This study is the world first to evaluate the coupling dynamic vehicle-track interactions over coupled short and long wavelength rail defects. The vehicle model has adopted multi degrees of freedom coupling with a discrete supported track model using Herzian contact theory. This paper highlights the dynamic impact load factors experienced by railway track components due to wheel/rail contacts. The insight into the dynamic amplification will enable predictive track maintenance and risk-based track inspection planning to enhance public safety and reduce unplanned maintenance costs.
Keywords
Dynamic interaction,
Coupling vehicle-track modeling,
short wavelength defect,
long wavelength defect,
coupled rail surface defects
Publication Date
August 31, 2017
Citation Information
Chiengson, C., Kaewunruen, S., Aikawa, A. (2017) Coupling dynamic vehicle-track interaction over coupled short and long wavelength rail defects, The 4th Thailand Rail Academic Symposium (TRAS 2017), Khao Yai, Pakchong, Nakhon Ratchasima, Thailand, August 31 – September 1, 2017. https://www.tras2017.com/
Creative Commons license
This work is licensed under a Creative Commons CC_BY International License.