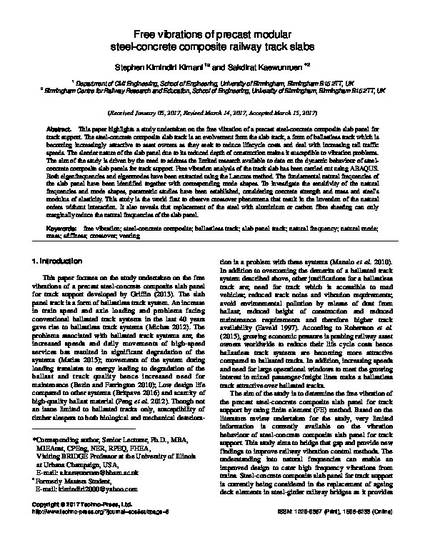 Article
Free vibrations of precast modular steel-concrete composite railway track slabs
Steel and Composite Structures (2017)
Abstract
This paper highlights a study undertaken on the free vibration of a precast steel-concrete composite slab panel for track support. The steel-concrete composite slab track is an evolvement from the slab track, a form of ballastless track which is becoming increasingly attractive to asset owners as they seek to reduce lifecycle costs and deal with increasing rail traffic speeds. The slender nature of the slab panel due to its reduced depth of construction makes it susceptible to vibration problems. The aim of the study is driven by the need to address the limited research available to date on the dynamic behaviour of steel-concrete composite slab panels for track support. Free vibration analysis of the track slab has been carried out using ABAQUS. Both eigenfrequencies and eigenmodes have been extracted using the Lanczos method. The fundamental natural frequencies of the slab panel have been identified together with corresponding mode shapes. To investigate the sensitivity of the natural frequencies and mode shapes, parametric studies have been established, considering concrete strength and mass and steel's modulus of elasticity. This study is the world first to observe crossover phenomena that result in the inversion of the natural orders without interaction. It also reveals that replacement of the steel with aluminium or carbon fibre sheeting can only marginally reduce the natural frequencies of the slab panel.
Keywords
free vibration,
steel-concrete composite,
ballastless track,
slab panel track,
natural frequency,
natural mode,
mass,
stiffness,
crossover,
veering
Publication Date
July 6, 2017
DOI
http://dx.doi.org/10.12989/scs.2017.24.1.113
Citation Information
http://dx.doi.org/10.12989/scs.2017.24.1.113
Creative Commons license
This work is licensed under a Creative Commons CC_BY International License.