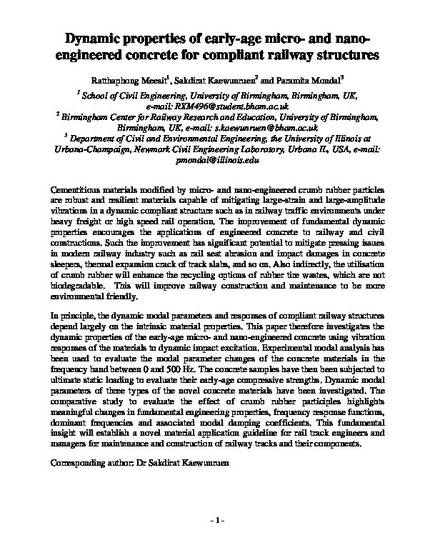 Article
Dynamic properties of early-age micro- and nano-engineered concrete for compliant railway structures
RILEM International Conference on Strategies for Sustainable Concrete (2015)
Abstract
Cementitious materials modified by micro- and nano-engineered crumb rubber particles are robust and resilient materials capable of mitigating large-strain and large-amplitude vibrations in a dynamic compliant structure such as in railway traffic environments under heavy freight or high speed rail operation. The improvement of fundamental dynamic properties encourages the applications of engineered concrete to railway and civil constructions. Such the improvement has significant potential to mitigate pressing issues in modern railway industry such as rail seat abrasion and impact damages in concrete sleepers, thermal expansion crack of track slabs, and so on. Also indirectly, the utilisation of crumb rubber will enhance the recycling options of rubber tire wastes, which are not biodegradable.  This will improve railway construction and maintenance to be more environmental friendly.
In principle, the dynamic modal parameters and responses of compliant railway structures depend largely on the intrinsic material properties. This paper therefore investigates the dynamic properties of the early-age micro- and nano-engineered concrete using vibration responses of the materials to dynamic impact excitation. Experimental modal analysis has been used to evaluate the modal parameter changes of the concrete materials in the frequency band between 0 and 500 Hz. The concrete samples have then been subjected to ultimate static loading to evaluate their early-age compressive strengths. Dynamic modal parameters of three types of the novel concrete materials have been investigated. The comparative study to evaluate the effect of crumb rubber participles highlights meaningful changes in fundamental engineering properties, frequency response functions, dominant frequencies and associated modal damping coefficients. This fundamental insight will establish a novel material application guideline for rail track engineers and managers for maintenance and construction of railway tracks and their components.
Keywords
Dynamic properties,
Early age,
crumb rubber,
high strengh concrete,
compliant railway structures,
track components,
nano-engineered concrete
Publication Date
December 14, 2015
Citation Information
9.Kaewunruen, S. and Meesit, R., 2015, "Dynamic properties of early-age micro- and nano-engineered concrete for compliant railway structures", RILEM International Conference on Strategies for Sustainable Concrete, Rio de Janeiro, Brazil, December 14-16, 2015.