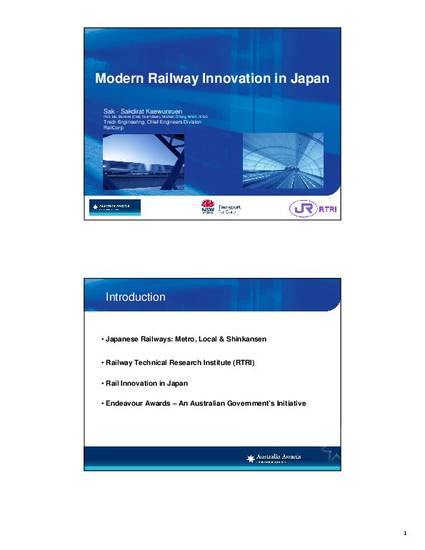 Presentation
Modern Rail Innovation in Japan
Engineers Australia (2011)
Abstract
This presentation was invited by Engineers Australia to discuss the importance of railway experience in Japan. Abstract: Rail transport has become one of the most desirable and environmental-friendly means for mass transportation, especially when the up-and-coming peak oil crisis has threatened and discredited many other modes of transport (including traditional car vehicles, trucks, and air planes) from being economical, efficient and sustainable. In this presentation, the modern rail systems in Japan, which cover metro, local and high speed rails, will be discussed together with the infrastructure development, network strategy, ticketing and sources of revenues. Because Japan is the pioneer of high speed rails since 50 years ago, accordingly an inevitable focus includes the Shinkansen systems and the infrastructure to support such systems. In addition, the presentation will cover the current research status and vision of Railway Technical Research Institute (RTRI), which is the major rail research organization formed by the Group of Japan Railway Companies (JRs). This is a good opportunity for audiences to explore one of the best railway systems in the world and experience the behindthe- scene issues as well as the impacts of high speed rail technology in a long term as seen in Japan. At last, the presenter will briefly introduce the Endeavour Awards, which could benefit the audiences who seek an advanced career opportunity. The Endeavour Awards is the Australian Government's internationally competitive, merit-based program providing opportunities for citizens of the Asia-Pacific, Middle-East, Europe and Americas to undertake study, research and professional development in Australia. Awards are also available for Australians to undertake study, research and professional development abroad. About the presenter: Sak (Sakdirat Kaewunruen) is currently a specialist with RailCorp. He is a Chartered Professional Engineer (CPEng) and has been actively involved with Engineers Australia's CPEng interview panel. He is also the Deputy Chair of the External Advisory Committee for the Construction Program at the University of Western Sydney; is a Guest Lecturer in Civil Construction at the University of Wollongong, and is a Fellow of the Engineering Institute of Thailand. He has a PhD in Structural Engineering and has authored over 200 technical publications. Sak visited Railway Technical Research Institute in Tokyo between October and November 2010 as the Visiting Endeavour Executive Fellow where he had worked with and experienced the rail systems in Japan.
Keywords
Highspeed rail,
suburban,
urban,
metro,
systems,
Japan,
Rail Research,
Track,
Infrastructure,
Rail Operation
Publication Date
April 28, 2011
Citation Information
Sakdirat Kaewunruen. "Modern Rail Innovation in Japan"
Engineers Australia
(2011)
Available at: http://works.bepress.com/sakdirat_kaewunruen/44/