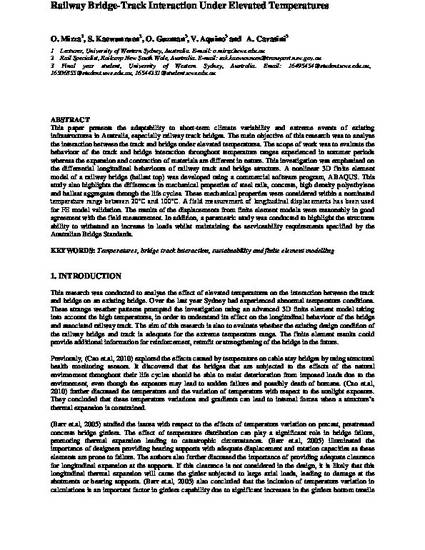 Article
Railway Bridge-Track Interaction Under Elevated Temperatures
5th International Conference on Advances in Experimental Structural Engineering (2013)
Abstract
This paper presents the adaptability to short-term climate variability and extreme events of existing infrastructures in Australia, especially railway track bridges. The main objective of this research was to analyse the interaction between the track and bridge under elevated temperatures. The scope of work was to evaluate the behaviour of the track and bridge interaction throughout temperature ranges experienced in summer periods whereas the expansion and contraction of materials are different in nature. This investigation was emphasised on the differential longitudinal behaviours of railway track and bridge structure. A nonlinear 3D finite element model of a railway bridge (ballast top) was developed using a commercial software program, ABAQUS. This study also highlights the differences in mechanical properties of steel rails, concrete, high density polyethylene and ballast aggregates through the life cycles. These mechanical properties were considered within a nominated temperature range between 20˚C and 100˚C. A field measurement of longitudinal displacements has been used for FE model validation. The results of the displacements from finite element models were reasonably in good agreement with the field measurement. In addition, a parametric study was conducted to highlight the structures ability to withstand an increase in loads whilst maintaining the serviceability requirements specified by the Australian Bridge Standards.
Keywords
Temperatures,
bridge track interaction,
sustainability and finite element modelling
Publication Date
November 8, 2013
Citation Information
Sakdirat Kaewunruen. "Railway Bridge-Track Interaction Under Elevated Temperatures"
5th International Conference on Advances in Experimental Structural Engineering
Vol. 1 (2013)
Available at: http://works.bepress.com/sakdirat_kaewunruen/38/