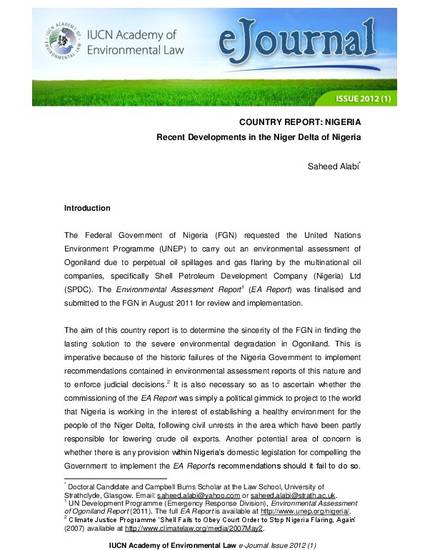 Article
Recent Developments in the Niger Delta of Nigeria
International Union for Conservation of Nature Academy of Environmental Law eJournal (2012)
Abstract
The Federal Government of Nigeria (FGN) requested the United Nations Environment Programme (UNEP) to carry out an environmental assessment of Ogoniland due to perpetual oil spillages and gas flaring by the multinational oil companies, specifically Shell Petroleum Development Company (Nigeria) Ltd (SPDC). The Environmental Assessment Report (EA Report) was finalised and submitted to the FGN in August 2011 for review and implementation. The aim of this country report is to determine the sincerity of the FGN in finding the lasting solution to the severe environmental degradation in Ogoniland. This is imperative because of the historic failures of the Nigeria Government to implement recommendations contained in environmental assessment reports of this nature and to enforce judicial decisions. It is also necessary so as to ascertain whether the commissioning of the EA Report was simply a political gimmick to project to the world that Nigeria is working in the interest of establishing a healthy environment for the people of the Niger Delta, following civil unrests in the area which have been partly responsible for lowering crude oil exports. Another potential area of concern is whether there is any provision within Nigeria's domestic legislation for compelling the Government to implement the EA Report's recommendations should it fail to do so. Alternatively, would it be more desirable to invoke provisions of international laws to compel Nigeria to implement these recommendations? Whilst it has been suggested that SPDC and the FGN should contribute US$1 billion as starting capital for the implementation of the EA Report's recommendations, it is unclear whether the SPDC and FGN are under any obligation to do so. What is furthermore unclear is the implication of their failure to make such a contribution.
Citation Information
Saheed A Alabi. "Recent Developments in the Niger Delta of Nigeria"
International Union for Conservation of Nature Academy of Environmental Law eJournal
Vol. 1 (2012)
Available at: http://works.bepress.com/saheed_alabi/2/