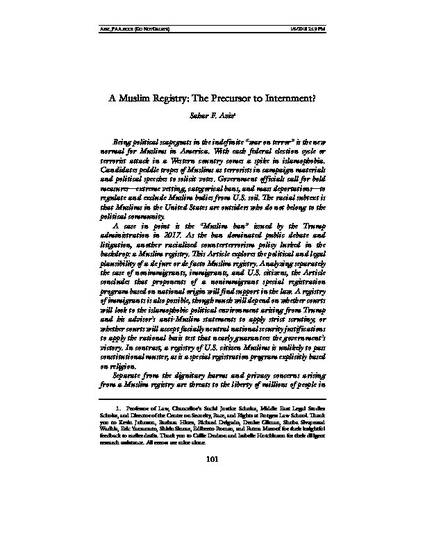 Article
A Muslim Registry: The Precursor to Internment?
Brigham Young University Law Review (2018)
Abstract
Being political scapegoats in the indefinite 'war on terror' is the new normal for Muslims in America. With each federal election cycle or terrorist attack in a Western country comes a spike in Islamophobia. Candidates peddle tropes of Muslims as terrorists in campaign materials and political speeches to solicit votes. Government officials call for bold measures – extreme vetting, bans, and mass deportations – to regulate and exclude Muslim bodies from U.S. soil. The racial subtext is that Muslims in the United States are outsiders who do not belong to the political community. A case in point is the "Muslim Ban" issued by the Trump administration in 2017. 
But as the Muslim Ban dominated the news cycle, another racialized counterterrorism policy lurks in the backdrop: a Muslim Registry. This Article explores the political and legal plausibility of a de jure or de facto Muslim Registry. Analyzing separately the case of nonimmigrants, immigrants, and U.S. citizens, the Article concludes that a special registration program explicitly based on religion regardless of the target's immigration status is unlikely to pass constitutional muster under both the rational basis and strict scrutiny test. Likewise, special registration of U.S. citizen Muslims based on national origin is illegal absent Congressional action grounded in credible objective evidence that one's ancestry causes her to become a terrorist. In contrast, a national origin based registration program targeting nonimmigrants would find support in laws and regulations authorizing past registration programs. 
The lawfulness of a Muslim Registry of immigrants is likely to be the most contentious. The outcome will depend in large part on whether courts look to the Islamophobic political environment arising from Trump and his advisors' anti-Muslim statements to question the government's facially neutral national security justifications. The litigation surrounding the Muslim Ban indicates that heightened judicial deference granted to the executive in national security cases post-9/11 may finally be yielding to individual rights.
Keywords
Muslim Ban,
Travel Ban,
Muslim Registry,
Islamophobia,
Civil Rights,
Immigration,
Plenary Power
Publication Date
Spring January 31, 2018
Citation Information
2018 B.Y.U. L. Rev. 101 (2018)
Creative Commons license
This work is licensed under a Creative Commons CC_BY International License.