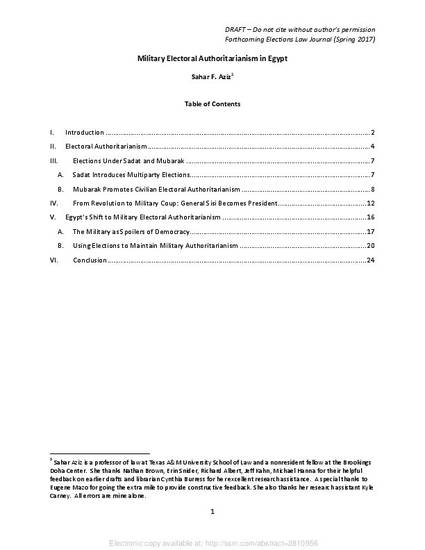 Article
Military Electoral Authoritarianism in Egypt
Election Law Journal (2017)
Abstract
This Article argues that the current regime under President Abdel Fatah Sisi has established a military electoral authoritarian state with a non-dominant party electoral system.   Coupled with Egypt's long tradition of nepotism, cronyism, and patronage networks, the new election laws perpetuate a fragmented, depoliticized parliament wherein no mobilized opposition can take shape to challenge the military state.   
The cause of Egypt's current depoliticization, however, is not a weak central party beholden to the presidency – as was the case under Sadat and Mubarak – but rather hundreds of rentseeking parliamentarians with no party affiliation.  Sisi intentionally structured the parliament to consist of over four hundred individual, self-interested actors who are vulnerable to bribery or coercion to keep them depoliticized and compliant.  This strategy facilitates purging any parliamentary figures that emerge to challenge the executive.
Unlike his three predecessors, President Abdel Fattah El Sisi has opted not to create a central party to manage elites and channel social opinion.  Instead, he is relying on the military as the foundation of his elite coalition to manage intra-elite conflict, co-opt new elites, and suppress populist opposition.  This shift has transformed Egypt's political landscape in three ways. First, the military now overtly dominates in political and economic affairs. Second, fractured and weak political alliances are composed of small parties with divergent ideologies and self-interested individuals. Third, a coopted and conservative judiciary legitimizes the regime's structure.  
This Article begins by providing a theoretical framework for examining the specific ways in which Egypt under Sadat and Mubarak experienced electoral authoritarianism.   It analyzes how election laws and the electoral system were changed after the mass uprisings of January 2011 to liberalize Egypt's political system.  Finally, it focuses on the Sisi era to demonstrate the specific ways election laws have been manipulated to produce a military electoral authoritarian state.  Despite the elimination of the former dominant National Democratic Party (NDP) from political life, the executive in Egypt continues to control the political system, but this time the military is overtly at the helm of the ruling elite.
Citation Information
Sahar F Aziz. "Military Electoral Authoritarianism in Egypt"
Election Law Journal
(2017)
Available at: http://works.bepress.com/sahar_aziz/85/