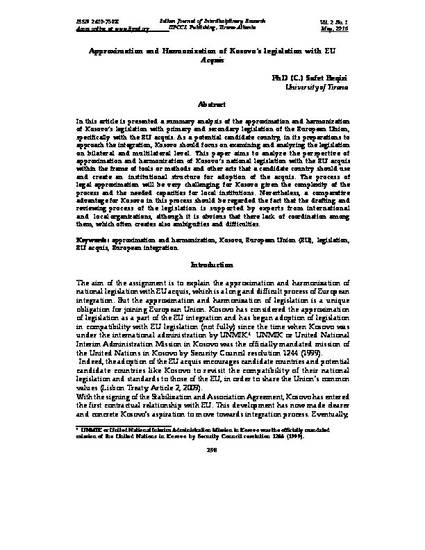 Article
Approximation and Harmonization of Kosovo's legislation with EU.pdf
Balkan Journal of Interdisciplinary Research (2016)
Abstract
Inthisarticleispresentedasummaryanalysisoftheapproximationand  harmonizationofKosovo'slegislationwithprimaryandsecondarylegislationof  the  EuropeanUnion,specificallywiththeEUacquis.Asapotentialcandidate  country,initspreparationstoapproachtheintegration,Kosovoshouldfocusonexaminingandanalyzingthelegislationonbilateralandmultilaterallevel.This  paperaimstoanalyzetheperspectiveofapproximationandharmonizationof  Kosovo'snationallegislationwiththeEUacquiswithintheframeoftoolsor  methodsandotheractsthatacandidatecountryshoulduseandcreatean  institutionalstructureforadoptionoftheacquis.Theprocessoflegal approximationwillbeverychallengingforKosovogiventhecomplexityofthe  processandtheneededcapacitiesforlocalinstitutions.Nevertheless,a  comparative  advantageforKosovointhisprocessshouldberegardedthefactthat  thedraftingandreviewingprocess  of  the  legislation  is  supported  by  experts  from  international  and  localorganizations,althoughitisobviousthattherelack  ofcoordinationamongthem,whichoftencreatesalsoambiguitiesanddifficulties.
Keywords
approximation and harmonization,
Kosovo,
European Union (EU),
legislation,
EU acquis,
European integration
Publication Date
Spring May 24, 2016
DOI
IIPCCL Publishing, Tirana-Albania
Citation Information
Borchardt, Klaus-Dieter. (2010). The ABC of European Union law. Publication Office of the EU, Luxembourg. b . Horvath Z. (2011). Handbook on the European Union. Fourth edition in English, Budapest. c. Mayoral, Juan. (2011). Democratic improvements in the European Union under the Lisbon Treaty; International changes regarding democratic government in the EU. San domenica di Fiesole. d. Miller, Vaughne. (2011). The EU's Acquis Communautaire, SN/IA/5944. e. Reka, Blerim. (2010). Geopolitics and Techniques of EU Enlargement. Brussels. f. Reka, Blerim. (2003). UNMIK, as an international governance in past-war Kosova: NATO's Intervention, UN Administration and Kosovar Aspirations. Skopje. g. Staab, A. Lodge, M. & Thielemann, E. (2011). Politics and policies of the European Union. University of London. h. Communication from the Commission to the Council, the European Parliament, the European Economic and Social Committee and the Committee of the Regions, Updating and simplifying the Community acquis. (2003). Brussels. i. Constitution of the Republic of Kosovo, (2008). And Rule of procedure of the Assembly of the Republic of Kosovo, (2010). Pristine. j . Constitutional Framework for Provisional Self-Government in Kosovo. (2001). Pristine. k. European Parliament, DG-EXPO, (2013). Approximation of the national legislation of Eastern Partnership countries with EU legislation in the economic field. l. HM Government. (2013). Transposition Guidance: How to implement European Directive effectively. m. Ministry of European Integration of Albania. (2010). Glossary for European Integration, Institutions and Policies of the European Union. Project funded by EU and GIZ. n. Official Journal of the European Union. (2012). Consolidated versions of the Treaty on European Union and Treaty on the Functioning of the European Union. Brussels. Web pages: o. http://ec.europa.eu/governance/docs/comm_simple_en.pdf p. http://europa.eu/legislation_summaries/institutional_affairs/ decisionmaking_process/l14530_en.htm q. http://ec.europa.eu/enlargement/policy/conditions-membership/index_en.htm
Creative Commons license
This work is licensed under a Creative Commons CC_BY International License.