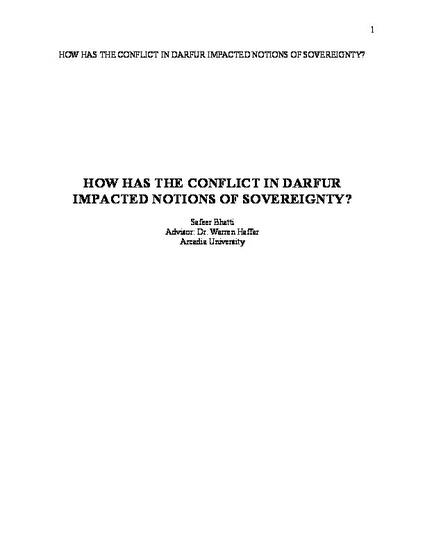 Unpublished Paper
HOW HAS THE CONFLICT IN DARFUR IMPACTED NOTIONS OF SOVEREIGNTY
ExpressO (2007)
Abstract
Entitled "How has the conflict of Darfur impacted notions of sovereignty," the purpose of this study is to show how a modern crisis like Darfur has incapacitated international mandated organizations to intervene to promote stability, peace and protection of human rights. Modern conflict has been fueled by the modern definition of sovereignty. Modern legal theory will denote that the current legal definition of sovereignty is absolute, but this paper will explore how the International legal concept of sovereignty is needed to enforce international law. States have three obligations: Sovereignty as responsibility, Sovereignty as limitedness, and Sovereignty as complete. The intent of this study is to show that the respect of post-1945 sovereignty has limited our involvement in Darfur. It will analyze the policies of the United Nations, the African Union, the European Union and the United States. It will determine that regional organizations and the superpower state are following the new framework of enforcement- following a sovereignty that has responsibility. The United States being a powerful nation has also followed and believed in sovereignty as responsibility, but the United Nations served to protect and maintain international peace and security has failed to carry out its duties due to the respect of modern sovereignty. The United Nations respect of Sudan sovereignty has continued the conflict in Darfur. In order to address the worst humanitarian situation in the world, the international community needs to revisit the international legal concept of sovereignty, and only then can the modern era heal the conflicts they started.
Publication Date
April, 2007
Citation Information
Safeer Tariq Bhatti. "HOW HAS THE CONFLICT IN DARFUR IMPACTED NOTIONS OF SOVEREIGNTY"
ExpressO
(2007)
Available at: http://works.bepress.com/safeer_bhatti/1/