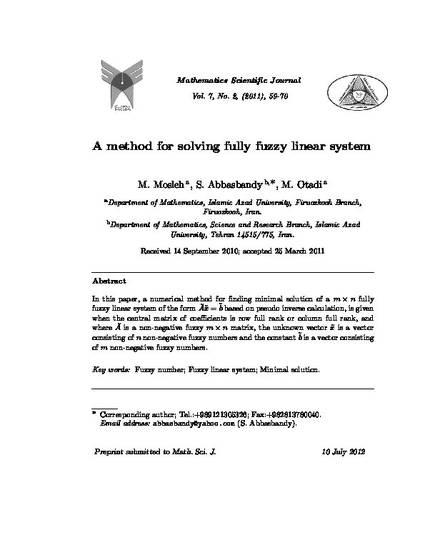 Article
A method for solving fully fuzzy linear system
Mathematics Scientific Journal, Islamic Azad University of Arak (2011)
Abstract
In this paper, a numerical method for finding minimal solution of a m*n fully fuzzy linear system of the form Ax=b based on pseudo inverse calculation, is given when the central matrix of coeficients is row full rank or column full rank, and where A is a non-negative fuzzy m*n matrix, the unknown vector x is a vector consisting of n non-negative fuzzy numbers and the constant b is a vector consisting of m non-negative fuzzy numbers.
Citation Information
M. Mosleh, Saeid Abbasbandy and M. Otadi. "A method for solving fully fuzzy linear system"
Mathematics Scientific Journal, Islamic Azad University of Arak
Vol. 7 Iss. 2 (2011)
Available at: http://works.bepress.com/saeid_abbasbandy/25/