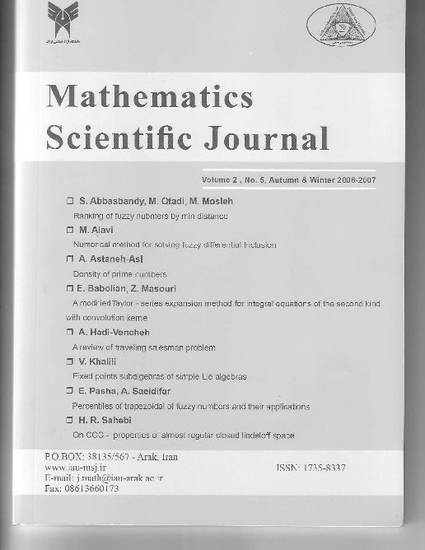 Article
Ranking of fuzzy numbers by min distance
Mathematics Scientific Journal, Islamic Azad University of Arak (2006)
Abstract
Several different strategies have been proposed for ranking of fuzzy numbers. These include methods based on the coefficient of variation (CV index), distance between fuzzy sets, centroid point and original point, and weighted mean value. Each of these techniques has been shown to produce non-intuitive results in certain cases. In this paper we propose a ranking method for fuzzy numbers by min distance. The method for ranking fuzzy numbers suggested in this paper is based on comparison of distance from fuzzy numbers to fuzzy minimum where fuzzy minimum is a reference set and this method able to overcome the shortcomings of the previous techniques.
Citation Information
S. Abbasbandy, M. Otadi and M. Mosleh. "Ranking of fuzzy numbers by min distance"
Mathematics Scientific Journal, Islamic Azad University of Arak
Vol. 2 (2006)
Available at: http://works.bepress.com/saeid_abbasbandy/15/