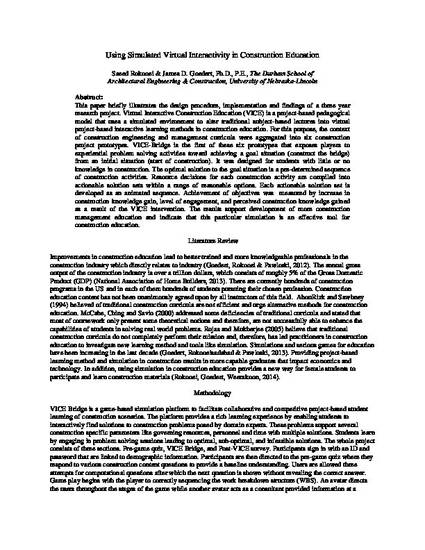 Article
Using Simulated Virtual Interactivity in Construction Education
Conference on Higher Education Pedagogy (2015)
Abstract
This paper briefly illustrates the design procedure, implementation and findings of a three year research project. Virtual Interactive Construction Education (VICE) is a project-based pedagogical model that uses a simulated environment to alter traditional subject-based lectures into virtual project-based interactive learning methods in construction education. For this purpose, the context of construction engineering and management curricula were aggregated into six construction project prototypes. VICE-Bridge is the first of these six prototypes that exposes players to experiential problem solving activities toward achieving a goal situation (construct the bridge) from an initial situation (start of construction). It was designed for students with little or no knowledge in construction. The optimal solution to the goal situation is a pre-determined sequence of construction activities. Resource decisions for each construction activity are compiled into actionable solution sets within a range of reasonable options. Each actionable solution set is developed as an animated sequence. Achievement of objectives was  measured by increase in construction knowledge gain, level of engagement, and perceived construction knowledge gained as a result of the VICE intervention. The results support development of more construction management education and indicate that this particular simulation is an effective tool for construction education.
Keywords
Education,
Construction,
Simulation
Publication Date
Spring February 8, 2015
Citation Information
Saeed Rokooei and James Goedert. "Using Simulated Virtual Interactivity in Construction Education"
Conference on Higher Education Pedagogy
(2015)
Available at: http://works.bepress.com/saeedrokooei/1/