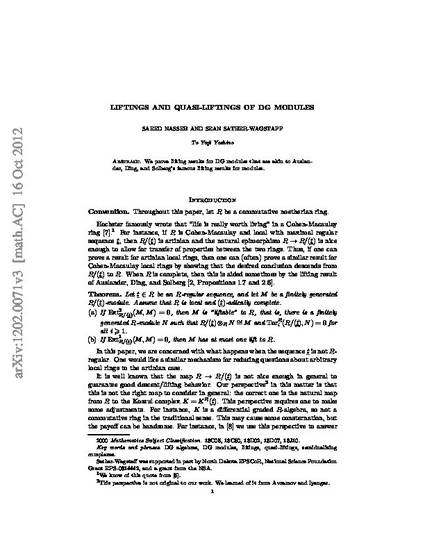 Article
Liftings and Quasi-Liftings of DG Modules
Journal of Algebra (2013)
Abstract
We prove lifting results for DG modules that are akin to Auslander, Ding, and Solberg's famous lifting results for modules.
Keywords
DG algebras,
DG modules,
Liftings,
Quasi-liftings,
Semidualizing complexes
Publication Date
January 1, 2013
DOI
10.1016/j.jalgebra.2012.09.036
Citation Information
Saeed Nasseh and Sean Sather-Wagstaff. "Liftings and Quasi-Liftings of DG Modules"
Journal of Algebra
373 (2013): 162-182.
source:http://arxiv.org/abs/1202.0071
doi:10.1016/j.jalgebra.2012.09.036
Available at: http://works.bepress.com/saeed_nasseh/2