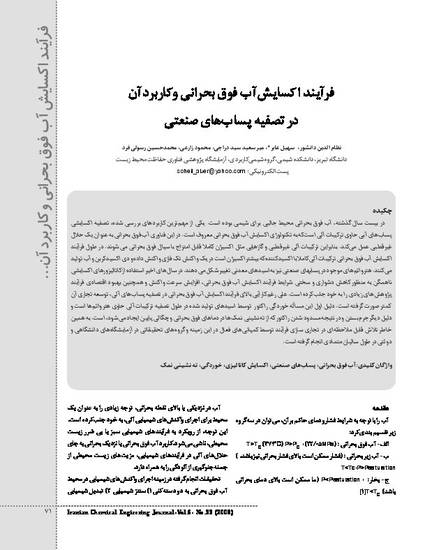 Article
Supercritical Water Oxidation Process and Its Application in Treatment of Industrial Wastewater (persian paper)
Iranian Chemical Engieering Journal (2008)
Abstract
In the last two decades, supercritical water has become an interesting medium for chemistry. One of its most investigated applications is the oxidative treatment of aqueous wastes containing organic compound in the so-called "supercritical water oxidation". In this technology, supercritical water acts as a non-polar solvent. Consequently, even non-polar organic compounds and gases like oxygen become completely miscible with the supercritical fluid. During the supercritical water oxidation (SCWO) process, the organic compounds react completely with oxidant –mostly oxygen- in a single phase reaction forming CO2 and H2O. The hetero-atoms present in the organic wastes are transformed into the mineral acids. In recent years, using heterogeneous catalysts has motivated much recent research in order to enhance the oxidation rates and reduce the severity of the processing conditions of SCWO and thereby improve the economics. Despite the potential of SCWO as a viable technology for organic waste destruction, its commercial development has been hindered by the problems of corrosion and salt precipitation. Consequently, much research in academia and government laboratories and many companies that have attempted to commercialize SCWO technology, over the years, have devoted considerable effort.
Keywords
Supercritical water,
Industrial wastewater,
Catalytic oxidation,
Corrosion,
Salt precipitation
Citation Information
N. Daneshvar, S. Aber, Mir saeed Seyed Dorraji, M. Zarei, et al.. "Supercritical Water Oxidation Process and Its Application in Treatment of Industrial Wastewater (persian paper)"
Iranian Chemical Engieering Journal
Vol. 6 Iss. 33 (2008)
Available at: http://works.bepress.com/saeed_dorraji/7/