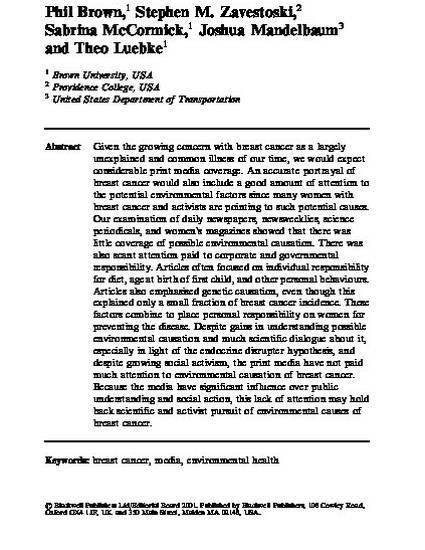 Article
Print Media Coverage of Environmental Causation of Breast Cancer
Sociology of Health and Illness (2001)
Abstract
Given the growing concern with breast cancer as a largely unexplained and common illness of our time, we would expect considerable print media coverage. An accurate portrayal of breast cancer would also include a good amount of attention to the potential environmental factors since many women with breast cancer and activists are pointing to such potential causes. Our examination of daily newspapers, newsweeklies, science periodicals, and women's magazines showed that there was little coverage of possible environmental causation. There was also scant attention paid to corporate and governmental responsibility. Articles often focused on individual responsibility for diet, age at birth of first child, and other personal behaviours. Articles also emphasised genetic causation, even though this explained only a small fraction of breast cancer incidence. These factors combine to place personal responsibility on women for preventing the disease. Despite gains in understanding possible environmental causation and much scientific dialogue about it, especially in light of the endocrine disrupter hypothesis, and despite growing social activism, the print media have not paid much attention to environmental causation of breast cancer. Because the media have significant influence over public understanding and social action, this lack of attention may hold back scientific and activist pursuit of environmental causes of breast cancer.
Citation Information
Phil Brown, Stephen M. Zavestoski, Sabrina McCormick, Joshua Mandelbaum, et al.. "Print Media Coverage of Environmental Causation of Breast Cancer"
Sociology of Health and Illness
Vol. 23 Iss. 6 (2001)
Available at: http://works.bepress.com/sabrina_mccormick/14/