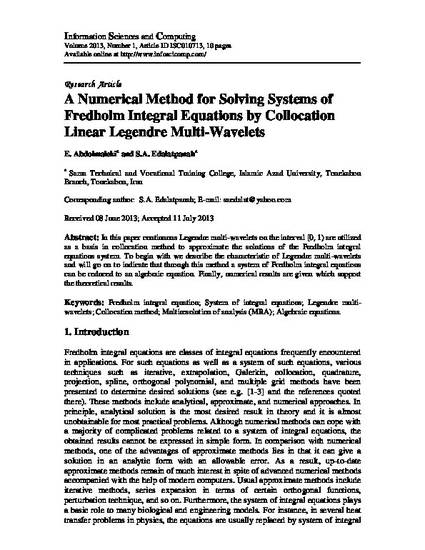 Article
A Numerical Method for Solving Systems of Fredholm Integral Equations by Collocation Linear Legendre Multi-Wavelets
Information Sciences and Computing (2013)
Abstract
In this paper continuous Legendre multi-wavelets on the interval [0, 1) are utilized as a basis in collocation method to approximate the solutions of the Fredholm integral equations system. To begin with we describe the characteristic of Legendre multi-wavelets and will go on to indicate that through this method a system of Fredholm integral equations can be reduced to an algebraic equation. Finally, numerical results are given which support the theoretical results.
Keywords
Fredholm integral equation; System of integral equations; Legendre multi- wavelets; Collocation method; Multiresolution of analysis (MRA); Algebraic equations.
Publication Date
July 20, 2013
Citation Information
SA Edalatpanah and E Abdolmaleki. "A Numerical Method for Solving Systems of Fredholm Integral Equations by Collocation Linear Legendre Multi-Wavelets"
Information Sciences and Computing
(2013)
Available at: http://works.bepress.com/sa_edalatpanah/12/