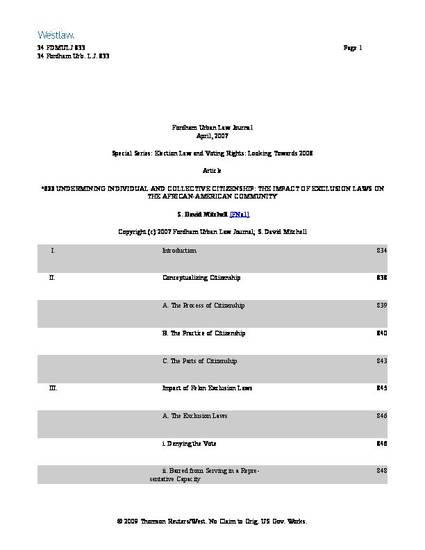 Article
Undermining Individual and Collective Citizenship: The Impact of Felon Exclusion Laws on the African-American Community
Fordham Urban Law Journal (2007)
Abstract
Felon exclusion laws are jurisdiction-specific, post-conviction statutory restrictions that prohibit convicted felons from exercising a host of legal rights, most notably the right to vote. The professed intent of these laws is to punish convicted felons equally without regard for the demographic characteristics of each individual, including race, class, or gender. Felon exclusion laws, however, have a disproportionate impact on African-American males and, by extension, on the residential communities from which many convicted felons come. Thus, felon exclusion laws not only relegate African-American convicted felons to a position of second-class citizenship, but the laws also diminish the collective citizenship of many African-American communities.
Keywords
african-american,
felon,
disenfranchisement,
ex-offender,
collateral consequences,
citizenship
Publication Date
Spring April, 2007
Citation Information
S. David Mitchell. "Undermining Individual and Collective Citizenship: The Impact of Felon Exclusion Laws on the African-American Community"
Fordham Urban Law Journal
Vol. 34 (2007)
Available at: http://works.bepress.com/s_david_mitchell/3/