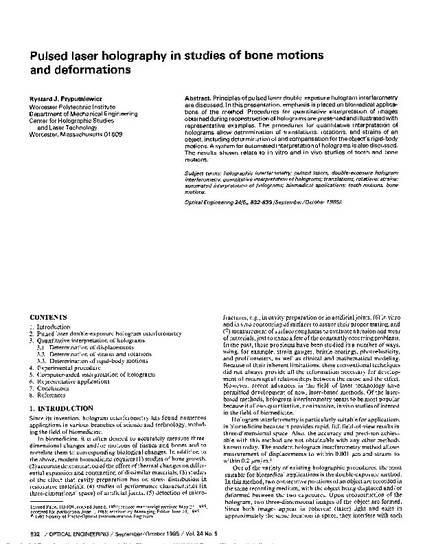 Article
Pulsed Laser Holography in Studies of Bone Motions and Deformations
Optical Engineering
Publication Date
1-1-1985
Abstract
Principles of pulsed laser double-exposure hologram interferometry are discussed. In this presentation, emphasis is placed on biomedical applications of the method. Procedures for quantitative interpretation of images obtained during reconstruction of holograms are presented and illustrated with representative examples. The procedures for quantitative interpretation of holograms allow determination of translations, rotations, and strains of an object, including determination of an compensation for the object's rigid-body motions. A system for automated interpretation of holograms is also discussed. The results shown relate to in vitro and in vivo studies of tooth and bone motions.
Publisher Statement
Copyright 1985 Society of Photo-Optical Instrumentation Engineers. One print or electronic copy may be made for personal use only. Systematic reproduction and distribution, duplication of any material in this paper for a fee or for commercial purposes, or modification of the content of the paper are prohibited.
Citation Information
Ryszard J. Pryputniewicz. "Pulsed Laser Holography in Studies of Bone Motions and Deformations"
Optical Engineering
Vol. 24 Iss. 5 (1985) p. 832 - 839
Available at: http://works.bepress.com/ryszard_pryputniewicz/5/