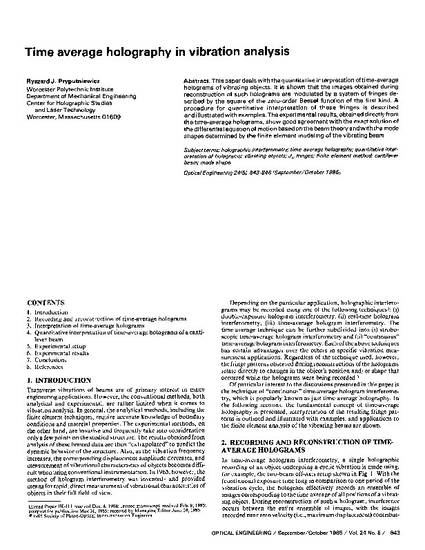 Article
Time Average Holography in Vibration Analysis
Optical Engineering
Publication Date
1-1-1985
Abstract
This paper deals with the quantitative interpretations of time-average holograms of vibrating objects. It is shown that the images obtained during reconstruction of such holograms are modulated by a system of fringes described by the square of the zero-order Bessel function of the first kind. A procedure for quantitative interpretation of these fringes is described and illustrated with examples. The experimental results, obtained directly from the time-average holograms, show good agreement with the exact solution of the differential equation of motion based on the beam theory and with the mode shapes determined by the finite element modeling of the vibrating beam.
Publisher Statement
Copyright 1985 Society of Photo-Optical Instrumentation Engineers. One print or electronic copy may be made for personal use only. Systematic reproduction and distribution, duplication of any material in this paper for a fee or for commercial purposes, or modification of the content of the paper are prohibited.
Citation Information
Ryszard J. Pryputniewicz. "Time Average Holography in Vibration Analysis"
Optical Engineering
Vol. 24 Iss. 5 (1985) p. 843 - 848
Available at: http://works.bepress.com/ryszard_pryputniewicz/3/