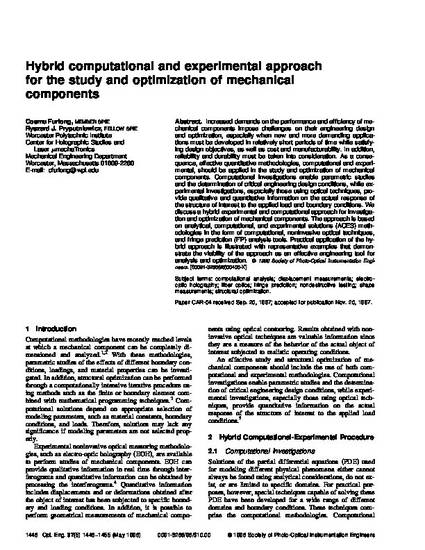 Article
Hybrid Computational and Experimental Approach for the Study and Optimization of Mechanical Components
Optical Engineering
Publication Date
5-1-1998
Abstract
Increased demands on the performance and efficiency of mechanical components impose challenges on their engineering design and optimization, especially when new and more demanding applications must be developed in relatively short periods of time while satisfying design objectives, as well as cost and manufacturability. In addition, reliability and durability must be taken into consideration. As a consequence, effective quantitative methodologies, computational and experimental, should be applied in the study and optimization of mechanical components. Computational investigations enable parametric studies and the determination of critical engineering design conditions, while experimental investigations, especially those using optical techniques, provide qualitative and quantitative information on the actual response of the structure of interest to the applied load and boundary conditions. We discuss a hybrid experimental and computational approach for investigation and optimization of mechanical components. The approach is based on analytical, computational, and experimental solutions (ACES) methodologies in the form of computational, noninvasive optical techniques, and fringe prediction (FP) analysis tools. Practical application of the hybrid approach is illustrated with representative examples that demonstrate the viability of the approach as an effective engineering tool for analysis and optimization.
Publisher Statement
Copyright 1998 Society of Photo-Optical Instrumentation Engineers. One print or electronic copy may be made for personal use only. Systematic reproduction and distribution, duplication of any material in this paper for a fee or for commercial purposes, or modification of the content of the paper are prohibited.
Citation Information
Cosme Furlong and Ryszard J. Pryputniewicz. "Hybrid Computational and Experimental Approach for the Study and Optimization of Mechanical Components"
Optical Engineering
Vol. 37 Iss. 5 (1998) p. 1448 - 1455
Available at: http://works.bepress.com/ryszard_pryputniewicz/2/