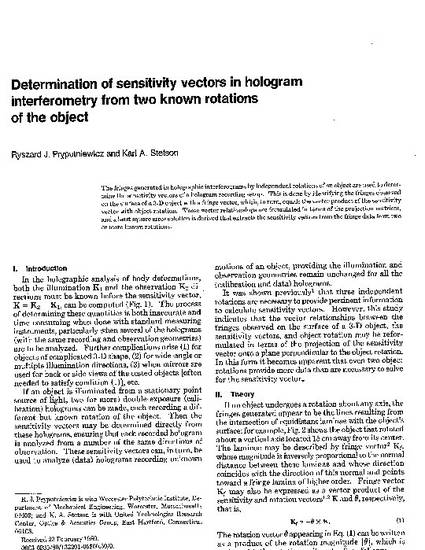 Article
Determination of Sensitivity Vectors in Hologram Interferometry From Two Known Rotations of the Object
Applied Optics
Publication Date
1-1-1980
Abstract
The fringes generated in holographic interferograms by independent rotations of an object are used to determine the sensitivity vectors of a hologram recording setup. This is done by identifying the fringes observed on the surface of a 3-D object with a fringe vector, which, in turn, equals the vector product of the sensitivity vector with object rotation. These vector relationships are formulated in terms of the projection matrices, and a least square error solution is derived that extracts the sensitivity vectors from the fringe data from two or more known rotations.
Publisher Statement
This paper was published in Applied Optics and is made available as an electronic reprint with the permission of OSA. The paper can be found at the following URL on the OSA website: http://dx.doi.org/10.1364/AO.19.002201. Systematic or multiple reproduction or distribution to multiple locations via electronic or other means is prohibited and is subject to penalties under law.
Citation Information
Ryszard J. Pryputniewicz and Karl A. Stetson. "Determination of Sensitivity Vectors in Hologram Interferometry From Two Known Rotations of the Object"
Applied Optics
Vol. 19 Iss. 13 (1980) p. 2201 - 2205
Available at: http://works.bepress.com/ryszard_pryputniewicz/1/