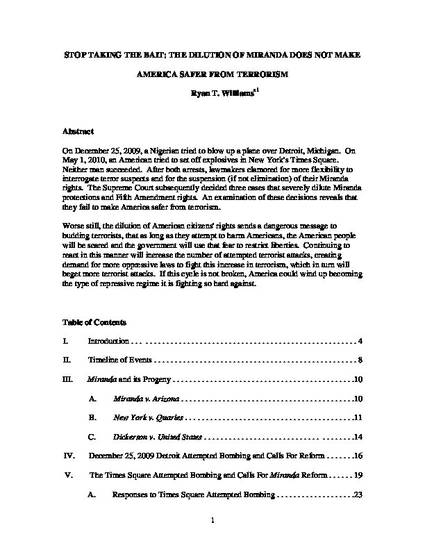 Article
Stop Taking The Bait: The Dilution of Miranda Does Not Make America Safer From Terrorism
Loyola Law Review (2010)
Abstract
On December 25, 2009, a Nigerian tried to blow up a plane over Detroit, Michigan. On May 1, 2010, an American tried to set off explosives in New York's Times Square. Neither man succeeded. After both arrests, lawmakers clamored for more flexibility to interrogate terror suspects and for the suspension (if not elimination) of their Miranda rights. The Supreme Court subsequently decided three cases that severely dilute Miranda protections and Fifth Amendment rights. An examination of these decisions reveals that they fail to make America safer from terrorism.
Worse still, the dilution of American citizens' rights sends a dangerous message to budding terrorists, that as long as they attempt to harm Americans, the American people will be scared and the government will use that fear to restrict liberties. If America continues to react this way, the number of attempted terrorist attacks will consequently increase, creating a demand for more oppressive laws, which in turn will beget more terrorist attacks. If this cycle is not broken, America could wind up becoming the type of repressive regime against which it is fighting so hard.
Keywords
Terrorism,
Terrorist attacks,
Miranda,
National Security,
Interrogation,
Torture,
Criminal law,
Criminal procedure
Publication Date
Winter 2010
Citation Information
Ryan T. Williams. "Stop Taking The Bait: The Dilution of Miranda Does Not Make America Safer From Terrorism"
Loyola Law Review
Vol. 56 Loy. L. Rev. 907 (2010)
Available at: http://works.bepress.com/ryan_williams/3/