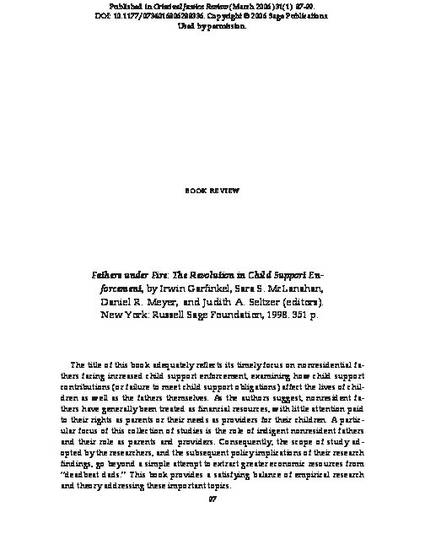 Article
Review of Fathers under Fire: The Revolution in Child Support Enforcement, by Irwin Garfinkel, Sara S. McLanahan, Daniel R. Meyer, and Judith A. Seltzer
Criminal Justice Review
Document Type
Book Review
Publication Date
3-1-2006
Abstract
The title of this book adequately reflects its timely focus on nonresidential fathers facing increased child support enforcement, examining how child support contributions (or failure to meet child support obligations) affect the lives of children as well as the fathers themselves. As the authors suggest, nonresident fathers have generally been treated as financial resources, with little attention paid to their rights as parents or their needs as providers for their children. A particular focus of this collection of studies is the role of indigent nonresident fathers and their role as parents and providers. Consequently, the scope of study adopted by the researchers, and the subsequent policy implications of their research findings, go beyond a simple attempt to extract greater economic resources from "deadbeat dads." This book provides a satisfying balance of empirical research and theory addressing these important topics.
Citation Information
Ryan E Spohn. "Review of Fathers under Fire: The Revolution in Child Support Enforcement, by Irwin Garfinkel, Sara S. McLanahan, Daniel R. Meyer, and Judith A. Seltzer"
Criminal Justice Review
Vol. 31 Iss. 1 (2006) p. 87-99
Available at: http://works.bepress.com/ryan_spohn/5/