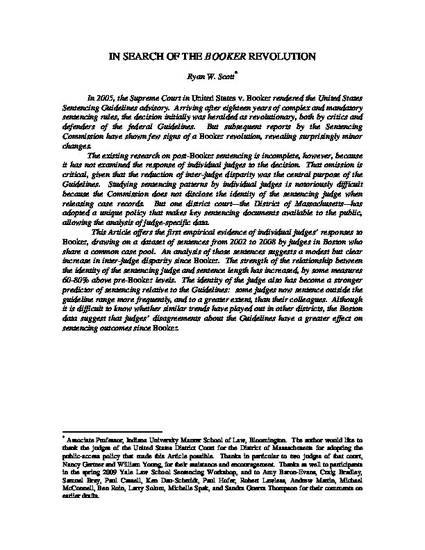 Unpublished Paper
In Search of the Booker Revolution
ExpressO (2009)
Abstract
In 2005, the Supreme Court in United States v. Booker rendered the United States Sentencing Guidelines advisory. Arriving after eighteen years of complex and mandatory sentencing rules, the decision initially was heralded as revolutionary, both by critics and defenders of the federal Guidelines. But subsequent reports by the Sentencing Commission have shown few signs of a Booker revolution, revealing surprisingly minor changes. The existing research on post-Booker sentencing is incomplete, however, because it has not examined the response of individual judges to the decision. That omission is critical, given that the reduction of inter-judge disparity was the central purpose of the Guidelines. Studying sentencing patterns by individual judges is notoriously difficult because the Commission does not disclose the identity of the sentencing judge when releasing case records. But one district court—the District of Massachusetts—has adopted a unique policy that makes key sentencing documents available to the public, allowing the analysis of judge-specific data. This Article offers the first empirical evidence of individual judges' responses to Booker, drawing on a dataset of sentences from 2002 to 2008 by judges in Boston who share a common case pool. An analysis of those sentences suggests a modest but clear increase in inter-judge disparity since Booker. The strength of the relationship between the identity of the sentencing judge and sentence length has increased, by some measures 60-80% above pre-Booker levels. The identity of the judge also has become a stronger predictor of sentencing relative to the Guidelines: some judges now sentence outside the guideline range more frequently, and to a greater extent, than their colleagues. Although it is difficult to know whether similar trends have played out in other districts, the Boston data suggest that judges' disagreements about the Guidelines have a greater effect on sentencing outcomes since Booker.
Keywords
sentencing,
guidelines,
Booker,
disparity
Publication Date
August 21, 2009
Citation Information
Ryan W. Scott. "In Search of the Booker Revolution"
ExpressO
(2009)
Available at: http://works.bepress.com/ryan_scott/1/