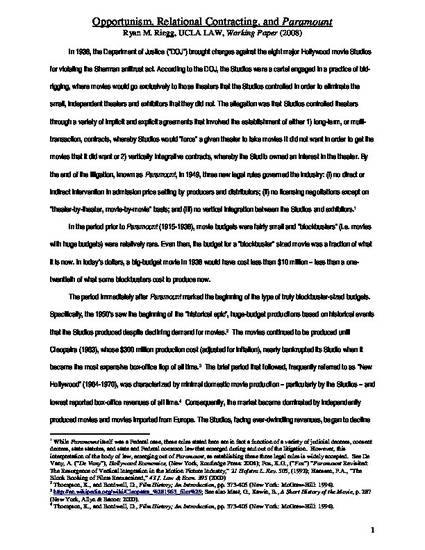 Article
Opportunism, Uncertainty, and Relational Contracting - Antitrust Rules in the Film Industry
Sports & Entertainment Law Journal (2009)
Abstract
For a long time, economists and investors have been baffled as to why Studios continue to produce movies with "blockbuster"-sized budgets (i.e. movies with budgets over $100 million) when producing those movies expose Studios to considerable economic risk.
By explaining the unique economics of the Film industry, and the effect of the Paramount (antitrust) rules on Film distribution contracts, this article provides an explanation to the puzzle of the blockbuster that is confirmed by recent trends in Film industry. Additionally, by using the Film industry as a model, this article also demonstrates how relational contracting can be understood as a means of coping with extreme uncertainty and under what circumstances relational contracting can be more efficient than formal contracts.
As a practical resource, this article has several uses. First, the article can provide support to attorneys concerned about a revival of stiff antitrust rules in the Film industry. Second, it can provide a potential guide to investment for Studio executives deciding how to best allocate their resources. Third, it can provide a model of contracting for businesses concerned with preventing opportunism in those industries marked by extreme uncertainty.
Keywords
Relational Contracting,
Antitrust,
Paramount,
Uncertainty,
Opportunism
Citation Information
Ryan M. Riegg. "Opportunism, Uncertainty, and Relational Contracting - Antitrust Rules in the Film Industry"
Sports & Entertainment Law Journal
(2009)
Available at: http://works.bepress.com/ryan_riegg/3/