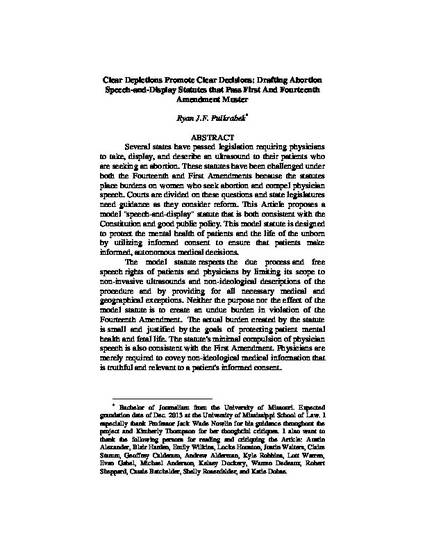 Unpublished Paper
Clear Depictions Promote Clear Decisions: Drafting Abortion Speech-and-Display Statutes that Pass First And Fourteenth Amendment Muster
ExpressO (2013)
Abstract
Several states have passed legislation requiring physicians to take, display, and describe an ultrasound to their patients who are seeking an abortion. These statutes have been challenged under both the Fourteenth and First Amendments because the statutes place burdens on women who seek abortion and compel physician speech. Courts are divided on these questions and state legislatures need guidance as they consider reform. This Article proposes a model "speech-and-display" statute that is both consistent with the Constitution and good public policy. This model statute is designed to protect the mental health of patients and the life of the unborn by utilizing informed consent to ensure that patients make informed, autonomous medical decisions.
The model statute respects the due process and free speech rights of patients and physicians by limiting its scope to non-invasive ultrasounds and non-ideological descriptions of the procedure and by providing for all necessary medical and geographical exceptions. Neither the purpose nor the effect of the model statute is to create an undue burden in violation of the Fourteenth Amendment. The actual burden created by the statute is small and justified by the goals of protecting patient mental health and fetal life. The statute's minimal compulsion of physician speech is also consistent with the First Amendment. Physicians are merely required to covey non-ideological medical information that is truthful and relevant to a patient's informed consent.
Keywords
speech-and-display,
abortion ultrasound,
pre-abortion,
First Amendment,
Fourteenth Amendment
Publication Date
February 18, 2013
Citation Information
Ryan J Pulkrabek. "Clear Depictions Promote Clear Decisions: Drafting Abortion Speech-and-Display Statutes that Pass First And Fourteenth Amendment Muster"
ExpressO
(2013)
Available at: http://works.bepress.com/ryan_pulkrabek/1/