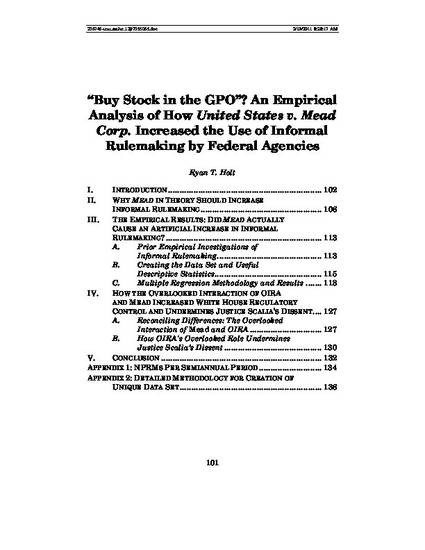 Unpublished Paper
"Buy Stock in the GPO"? An Empirical Analysis of How United States v. Mead Corp. Increased the Use of Informal Rulemaking by Federal Agencies
ExpressO (2011)
Abstract
In the dynamic field of administrative law, no case has received more attention over the past ten years than United States v. Mead Corp., in which the Supreme Court created a threshold requirement for federal-agency action to receive Chevron deference. But despite this focus from courts and commentators, one of that case's major implications has thus far escaped the spotlight of analysis: To what extent has Mead affected agencies' choice of policymaking device? In an excoriating dissent, Justice Scalia forewarned that Mead would precipitate an undesirable increase in informal (so-called "notice-and-comment") rulemaking. However, whether Mead has increased informal rulemaking over the ensuing nine years is an empirical question, and it has not yet been analyzed. This Article provides an answer. To do so, it employs an original data set containing thousands of observations from forty-four federal agencies from 1983 to 2009. The results of the multiple-regression analysis suggest that Justice Scalia was correct in his prediction: Mead is indeed associated with a statistically significant increase in informal rulemaking across all federal agencies. Surprisingly, however, this increase is attributable only to cabinet departments, but not to independent agencies. To explain this discrepancy, the Article posits a novel theory for the interaction of Mead with the role of the Office of Information and Regulatory Affairs ("OIRA"), which reviews and sculpts all cabinet-department (but not independent-agency) rules made through informal rulemaking. The White House covets such regulatory control, and the judicial safe harbor for informal rulemaking in Mead provided White House lawyers with the ideal means to encourage informal rulemaking and thereby to shift cabinet-department policymaking into its hands. This theory, in turn, implies that Mead may have unwittingly caused a consolidation of regulatory power in the White House—in direct contradiction to Justice Scalia's more fundamental concern that the case would result in federal-court encroachment on the policymaking power of the executive branch.
Publication Date
February 10, 2011
Citation Information
Ryan T. Holt. ""Buy Stock in the GPO"? An Empirical Analysis of How United States v. Mead Corp. Increased the Use of Informal Rulemaking by Federal Agencies"
ExpressO
(2011)
Available at: http://works.bepress.com/ryan_holt/1/