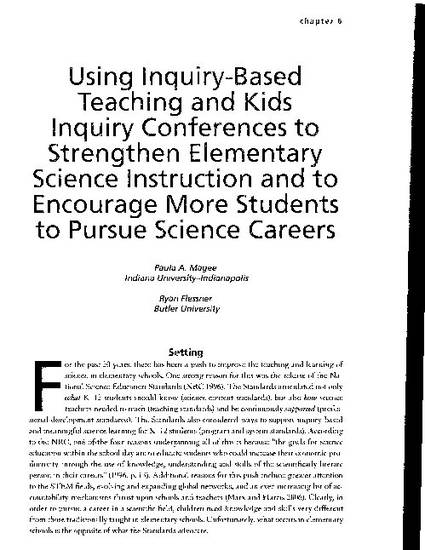 Article
Using Inquiry-Based Teaching and Kids Inquiry Conferences to Strengthen Elementary Science Instruction and to Encourage More Students to Pursue Science Careers
Exemplary Science for Interest in STEM Careers
Document Type
Book Chapter
Publication Date
1-1-2012
Additional Publication URL
http://www.nsta.org/store/product_detail.aspx?id=10.2505/9781936959358
Abstract
For the past 20 years, there has been a push to improve the teaching and learning of science in elementary schools. One strong reason for this was the release of the National Science Education Standards (NRC 1996). The Standards articulated not only what K-12 students should know (science content standards), but also how science teachers needed to teach (teaching standards) and be continuously supported (professional development standards). The Standards also considered ways to support inquiry-based and meaningful science learning for K-12 students (program and system standards). According to the NRC, one ot:·the four reasons underpinning all of this is because "the goals for science education within the school day are to educate students who could increase their economic productivity through the use of knowledge, understanding and skills of the scientifically literate person in their careers" (1996, p. 13). Additional reasons for this push include greater attention to the STEM fields, evolving and expanding global networks, and an ever-increasing list of accountability mechanisms thrust upon schools and teachers (Marx and Harris 2006). Clearly, in order to pursue a career in a scientific field, children need knowledge and skills very different from those traditionally taught in elementary schools. Unfortunately, what occurs in elementary schools is the opposite of what the Standards advocate.
Citation Information
Paula A. Magee and Ryan Flessner. "Using Inquiry-Based Teaching and Kids Inquiry Conferences to Strengthen Elementary Science Instruction and to Encourage More Students to Pursue Science Careers"
Exemplary Science for Interest in STEM Careers
(2012) p. 81 - 94
Available at: http://works.bepress.com/ryan_flessner/18/