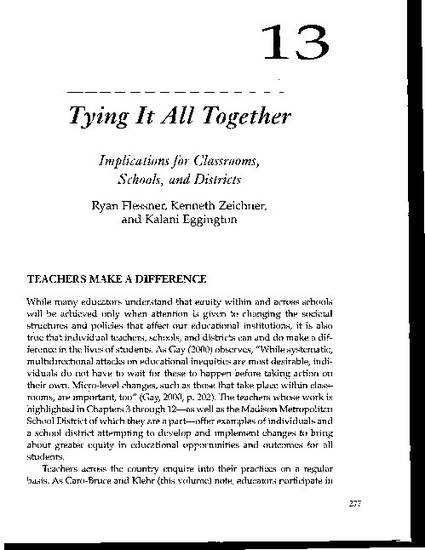 Article
Tying It All Together: Implications for Classrooms, Schools, and Districts
Creating Equitable Classrooms through Action Research
Document Type
Book Chapter
Publication Date
1-1-2007
Additional Publication URL
http://www.sagepub.com/booksProdDesc.nav?prodId=Book228882
Abstract
Ryan Flessner, Kenneth Zeichner, and Kalani Eggington's contribution to "Creating Equitable Classrooms through Action Research"
Rights
This chapter was archived with permission from Corwin Press, an imprint of SAGE, all rights reserved. Document also available from Flessner, R., Zeichner, K. M., Eggington, K. (2007). Tying it all together: Implications for classrooms, schools, and districts. In C. Caro-Bruce, R. Flessner, M. Klehr, & K. Zeichner (Eds). Creating equitable classrooms through action research (pp. 277-296). Thousand Oaks, CA: Corwin Press.
Citation Information
Ryan Flessner, Kenneth Zeichner and Kalani Eggington. "Tying It All Together: Implications for Classrooms, Schools, and Districts"
Creating Equitable Classrooms through Action Research
(2007) p. 277 - 296
Available at: http://works.bepress.com/ryan_flessner/16/