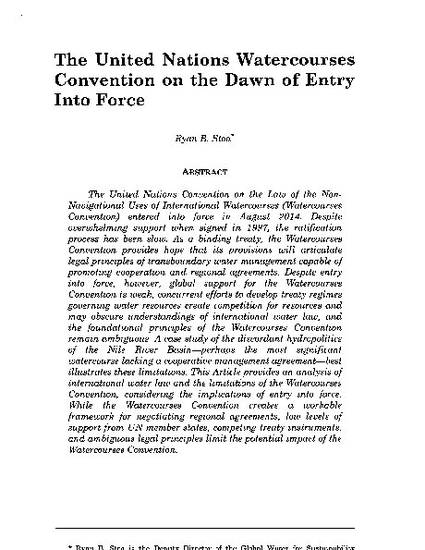 Article
The United Nations Watercourses Convention on the Dawn of Entry into Force
Faculty Scholarship
Publication Date
11-1-2014
Abstract
The United Nations Convention on the Law of the Non- Navigational Uses of International Watercourses (Watercourses Convention) entered into force in August 2014. Despite overwhelming support when signed in 1997, the ratification process has been slow. As a binding treaty, the Watercourses Convention provides hope that its provisions will articulate legal principles of transboundary water management capable of promoting cooperation and regional agreements. Despite entry into force, however, global support for the Watercourses Convention is weak, concurrent efforts to develop treaty regimes governing water resources create competition for resources and may obscure understandings of international water law, and the foundational principles of the Watercourses Convention remain ambiguous. A case study of the discordant hydropolitics of the Nile River Basin-perhaps the most significant watercourse lacking a cooperative management agreement-best illustrates these limitations. This Article provides an analysis of international water law and the limitations of the Watercourses Convention, considering the implications of entry into force. While the Watercourses Convention creates a workable framework for negotiating regional agreements, low levels of support from UN member states, competing treaty instruments, and ambiguous legal principles limit the potential impact of the Watercourses Convention.
Citation Information
Ryan B. Stoa, The United Nations Watercourses Convention on the Dawn of Entry into Force, 47 Vand. J. Transnat'l L. 1321, 1370 (2014).