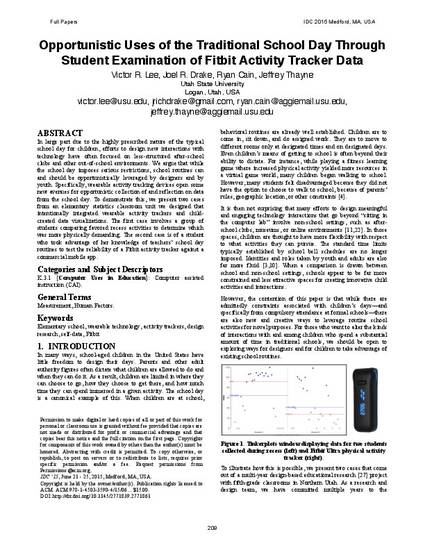 Article
Opportunistic Uses of the Traditional School Day Through Student Examination of Fitbit Activity Tracker Data
Interaction Design and Children
Publisher
Tufts University
Publication Date
6-1-2015
Abstract
In large part due to the highly prescribed nature of the typical school day for children, efforts to design new interactions with technology have often focused on less-structured after-school clubs and other out-of-school environments. We argue that while the school day imposes serious restrictions, school routines can and should be opportunistically leveraged by designers and by youth. Specifically, wearable activity tracking devices open some new avenues for opportunistic collection of and reflection on data from the school day. To demonstrate this, we present two cases from an elementary statistics classroom unit we designed that intentionally integrated wearable activity trackers and childcreated data visualizations. The first case involves a group of students comparing favored recess activities to determine which was more physically demanding. The second case is of a student who took advantage of her knowledge of teachers' school day routines to test the reliability of a Fitbit activity tracker against a commercial mobile app.
Citation Information
Victor R Lee, Joel Drake, Ryan Cain and Jeffrey Thayne. "Opportunistic Uses of the Traditional School Day Through Student Examination of Fitbit Activity Tracker Data"
Interaction Design and Children
Vol. 2015 (2015) p. 209 - 218
Available at: http://works.bepress.com/ryan-cain/6/