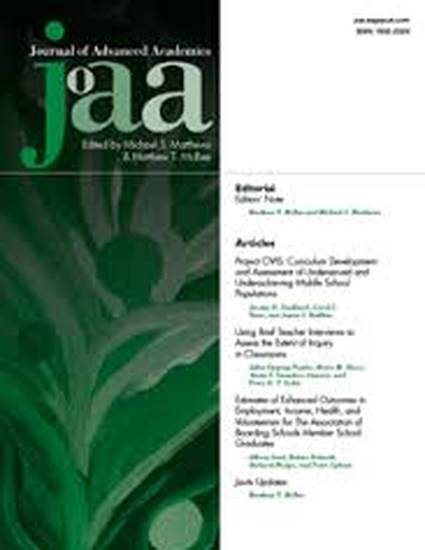 Article
A Welcomed Intrusion: A Response to Card and Giuliano's Evaluation of a Gifted Program
Journal of Advanced Academics (2016)
Abstract
Card and Giuliano conducted a regression discontinuity study in a large Florida school district to investigate the magnitude of academic benefits of the district's gifted program. They found that for children identified as gifted through an intelligence test, the program provided few or no benefits. But children who were admitted to the gifted program because of high achievement test scores received academic benefits in multiple school subjects. This study—performed by economists with no vested interest in educational theory or practice—is a welcomed contribution to the gifted education research because it touches upon issues of identification, diversity, program evaluation, and more. However, Card and Giuliano's contributions to gifted education theory are more limited. Nevertheless, gifted education is better off because of their study, and I welcome other "intrusions" from non-educational scholars into gifted education research.
Keywords
program evaluation,
educational theory,
gifted programs,
gifted education
Publication Date
May, 2016
DOI
10.1177/1932202X15627478
Citation Information
Russell T Warne. "A Welcomed Intrusion: A Response to Card and Giuliano's Evaluation of a Gifted Program"
Journal of Advanced Academics
Vol. 27 Iss. 2 (2016) p. 65 - 72
Available at: http://works.bepress.com/rwarne/38/