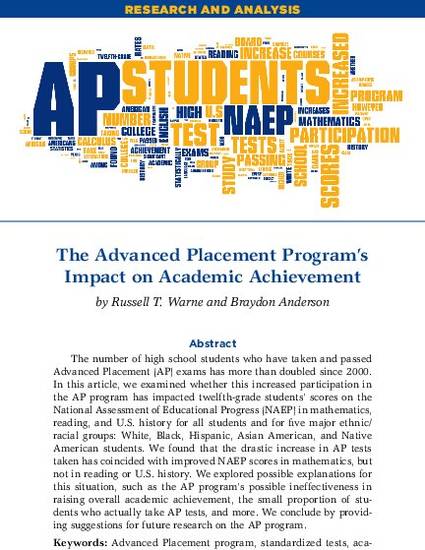 Article
The Advanced Placement program's impact on academic achievement
New Educational Foundations (2015)
Abstract
The number of high school students who have taken and passed Advanced Placement (AP) exams has more than doubled since 2000. In this article, we examined whether this increased participation in the AP program has impacted twelfth-grade students' scores on the National Assessment of Educational Progress (NAEP) in mathematics, reading, and U.S. history for all students and for five major ethnic/racial groups: White, Black, Hispanic, Asian American, and Native American students. We found that the drastic increase in AP tests taken has coincided with improved NAEP scores in mathematics, but not in reading or U.S. history. We explored possible explanations for this situation, such as the AP program's possible ineffectiveness in raising overall academic achievement, the small proportion of students who actually take AP tests, and more. We conclude by providing suggestions for future research on the AP program.
Keywords
Advanced Placement program,
standardized tests,
academic achievement,
high school achievement,
NAEP
Publication Date
Summer July, 2015
Citation Information
Russell T Warne and Braydon Anderson. "The Advanced Placement program's impact on academic achievement"
New Educational Foundations
Iss. 4 (2015)
Available at: http://works.bepress.com/rwarne/30/