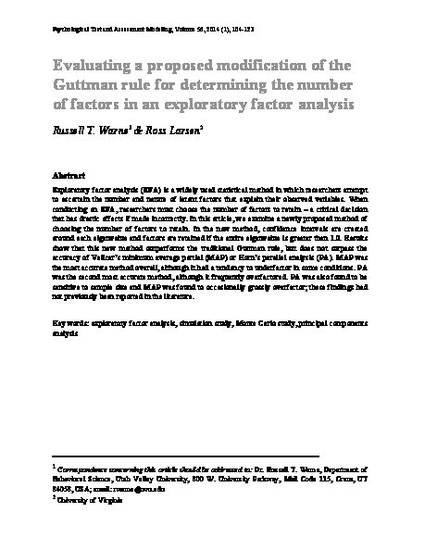 Article
Evaluating a proposed modification of the Guttman rule for determining the number of factors in an exploratory factor analysis
Psychological Test and Assessment Modeling (2014)
Abstract
Exploratory factor analysis (EFA) is a widely used statistical method in which researchers attempt to ascertain the number and nature of latent factors that explain their observed variables. When conducting an EFA, researchers must choose the number of factors to retain—a critical decision that has drastic effects if made incorrectly. In this article, we examine a newly proposed method of choosing the number of factors to retain. In the new method, confidence intervals are created around each eigenvalue and factors are retained if the entire eigenvalue is greater than 1.0. Results show that this new method outperforms the traditional Guttman rule, but does not surpass the accuracy of Velicer's minimum average partial (MAP) or Horn's parallel analysis (PA). MAP was the most accurate method overall, although it had a tendency to underfactor in some conditions. PA was the second most accurate method, although it frequently overfactored. PA was also found to be sensitive to sample size and MAP was found to occasionally grossly overfactor; these findings had not previously been reported in the literature.
Keywords
exploratory factor analysis,
simulation study,
Monte Carlo study,
principal components analysis
Citation Information
Russell T Warne and Ross Larsen. "Evaluating a proposed modification of the Guttman rule for determining the number of factors in an exploratory factor analysis"
Psychological Test and Assessment Modeling
Vol. 56 (2014)
Available at: http://works.bepress.com/rwarne/2/