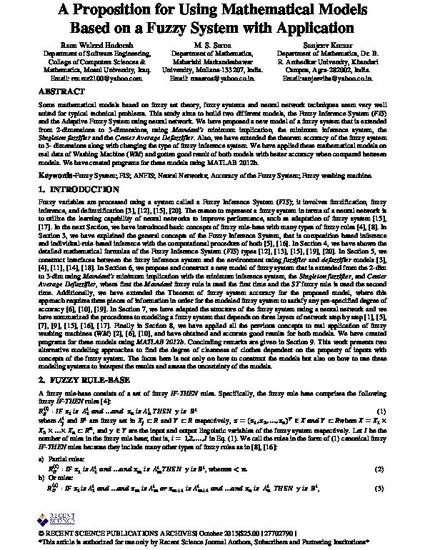 Article
A Proposition for using Mathematical Models Based on a Fuzzy System with Application
International Journal of Mathematical Sciences (2013)
Abstract
Some mathematical models based on fuzzy set theory, fuzzy systems and neural network techniques seem very well suited for typical technical problems. This study aims to build two different models, the Fuzzy Inference System (FIS) and the Adaptive Fuzzy System using neural network. We have proposed a new model of a fuzzy system that is extended from 2-dimensions to 3-dimensions, using Mamdani's minimum implication, the minimum inference system, the Singleton fuzzifier and the Center Average Defuzzifier. Also, we have extended the theorem accuracy of the fuzzy system to 3- dimensions along with changing the type of fuzzy inference system. We have applied these mathematical models on real data of Washing Machine (WM) and gotten good result of both models with better accuracy when compared between models. We have created programs for these models using MATLAB 2012b.
Keywords
Fuzzy System; FIS; ANFIS; Neural Networks; Accuracy of the Fuzzy System; Fuzzy washing machine
Publication Date
Winter October 1, 2013
Citation Information
R. W. Hndoosh. "A Proposition for using Mathematical Models Based on a Fuzzy System with Application"
International Journal of Mathematical Sciences
Vol. 33 Iss. 2 (2013)
Available at: http://works.bepress.com/rw_hndoosh/1/