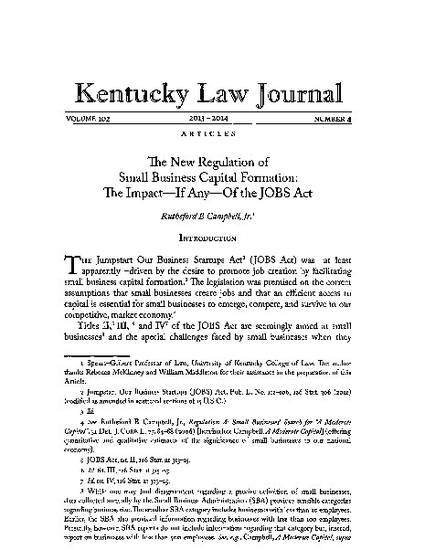 Article
The New Regulation of Small Business Capital Formation: The Impact—If Any—Of the JOBS Act
Kentucky Law Journal
Abstract
The Jumpstart Our Business Startups Act (JOBS Act) was—at least apparently—driven by the desire to promote job creation by facilitating small business capital formation. The legislation was premised on the correct assumptions that small businesses create jobs and that an efficient access to capital is essential for small businesses to emerge, compete, and survive in our competitive, market economy. It is certain that the JOBS Act will have an effect on businesses' access to external capital. With regard, however, to the capital formation efforts of small businesses—businesses that may account for more than 25% of our national economy—the analysis offered by this Article suggests that the benefits may be modest. Unless the Commission acts under its delegated authority in a rational and in some instances bold manner, the benefits from the JOBS Act to small businesses and their capital formation needs and efforts will be far less then was possible or anticipated.
Publication Date
1-1-2014
Citation Information
Rutherford B Campbell, Jr.,
The New Regulation of Small Business Capital Formation: The Impact—If Any—Of the JOBS Act
, 102 Ky. L.J. 815 (2014).