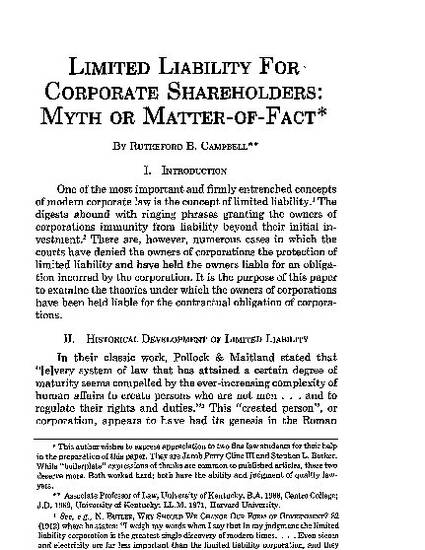 Article
Limited Liability for Corporate Shareholders: Myth or Matter-of-Fact
Law Faculty Scholarly Articles
Abstract
One of the most important and firmly entrenched concepts of modern corporate law is the concept of limited liability. The digests abound with ringing phrases granting the owners of corporations immunity from liability beyond their initial investment. There are, however, numerous cases in which the courts have denied the owners of corporations the protection of limited liability and have held the owners liable for an obligation incurred by the corporation. It is the purpose of this paper to examine the theories under which the owners of corporations have been held liable for the contractual obligation of corporations.
Publication Date
1-1-1975
Citation Information
Rutheford B Campbell, Jr.,
Limited Liability for Corporate Shareholders: Myth or Matter-of-Fact
, 63 Ky. L.J. 23 (1975).