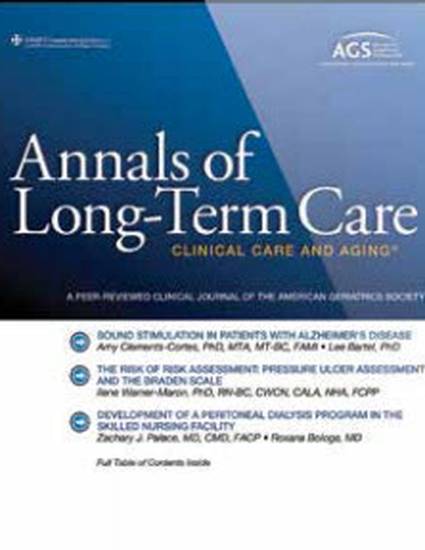 Article
Comparison of nurse practitioner and physician practice models in nursing facilities
Annals of Long-Term Care (2015)
Abstract
Nurse practitioners (NPs) are competent primary care providers in long-term care (LTC) facilities who provide an extensive range of services. The inclusion of NPs on the care team has been associated with fewer hospitalizations and emergency department transfers; improved health status, behavior, and satisfaction with care; and increased quality of care among LTC residents. Secondary data analysis of the Medicare Current Beneficiary Survey for 2006 through 2010 was conducted to compare the practice patterns of NP and physician (MD) provider cohorts in order to evaluate whether the primary care practice model influences the process of care for LTC nursing facility residents. The sample consisted of data from Medicare beneficiaries who resided in a nursing facility for a full year, yielding 1322 measurements. NPs and MDs provide primary care for similar patients with regard to demographic variables, reported health status, and deficits in activities of daily living. NPs provide comparable care that is both substitutive and complementary to that provided by MDs in LTC. Health screening rates were similar, although NPs had higher completion rates of advance directives related to do-not-resuscitate (DNR) orders. The results of this study validate the key role of NPs in primary care for older adults. By having a higher completion rate of DNR orders, the inclusion of NPs in LTC nursing facility care teams potentially increases resident quality of life and reduces the cost of care by minimizing the use of costly, unwanted treatments. 
Citation Information
Karen Devereaux Melillo, Ruth Remington, Lisa Abdallah, Ramraj Gautam, et al.. "Comparison of nurse practitioner and physician practice models in nursing facilities"
Annals of Long-Term Care
Vol. 23 Iss. 12 (2015) p. 19 - 24
Available at: http://works.bepress.com/ruth_remington/27/
Creative Commons license
This work is licensed under a Creative Commons CC_BY-NC-ND International License.