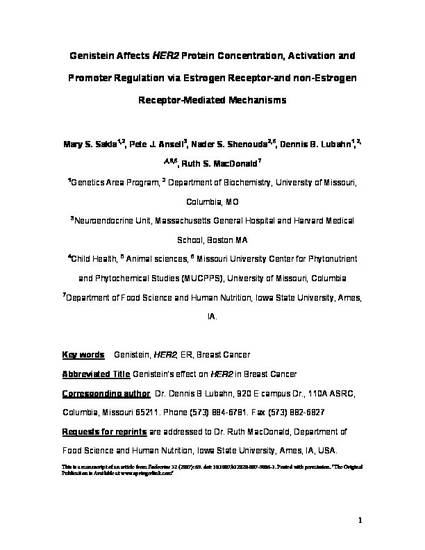 Article
Genistein Affects HER2 Protein Concentration, Activation and Promoter Regulation via Estrogen Receptor-and non-Estrogen Receptor-Mediated Mechanisms
Endocrine
Publication Date
10-2-2007
DOI
10.1007/s12020-007-9006-1
Abstract
The HER2 proto-oncogene, a member of the epidermal growth factor receptor family, is overexpressed in 20–30% of breast cancers. Genistein, the main soy isoflavone, interacts with estrogen receptors (ER) and it is also a potent tyrosine kinase inhibitor. Previously, our laboratory found that genistein delayed mammary tumor onset in transgenic mice that overexpress HER2 gene. Our goal was to define the mechanism through which genistein affects mammary tumorigenesis inHER2 overexpressing mice. We hypothesized that genistein inhibits HER2 activation and expression through ER-dependent and ER-independent mechanisms. Genistein inhibited total HER2 protein expression and tyrosine phosphorylation in BT-474, an ERα (−) and ERβ (+) human breast cancer cell line, however, E2 had no effect. Taken together, these data suggest that genistein has an ER-independent inhibitory effect, presumably, through tyrosine kinase inhibition activity. Genistein at 1.0 μM mimicked E2 and down-regulated HER2 protein phosphorylation when BT-474 was co-transfected with ERα, but not ERβ. Although E2 and overexpression of HER2 can promote mammary tumorigenesis, an inverse relationship between ER expression and HER2 overexpression has been found in human breast cancer. We cloned a 500-bp promoter region upstream of theHER2 transcription initiation site. Co-transfection with ERα, but not with ERβ, down-regulated HER2promoter reporter in BT-474. At concentrations ≥1 μM, genistein inhibited HER2 promoter reporter in the absence of ERα. In conclusion, genistein at ≥1 μM inhibited HER2 protein expression, phosphorylation, and promoter activity through an ER-independent mechanism. In the presence of ERα, genistein mimicked E2 and inhibited HER2 protein phosphorylation. These data support genistein's chemo-prevention and potential chemo-therapeutic roles in breast cancer.
Copyright Owner
Humana Press Inc
File Format
application/pdf
Citation Information
Mary S. Sakla, Pete J. Ansell, Nader S. Shenouda, Dennis B. Lubahn, et al.. "Genistein Affects HER2 Protein Concentration, Activation and Promoter Regulation via Estrogen Receptor-and non-Estrogen Receptor-Mediated Mechanisms"
Endocrine
Vol. 32 Iss. 1 (2007) p. 69 - 78
Available at: http://works.bepress.com/ruth_macdonald/4/