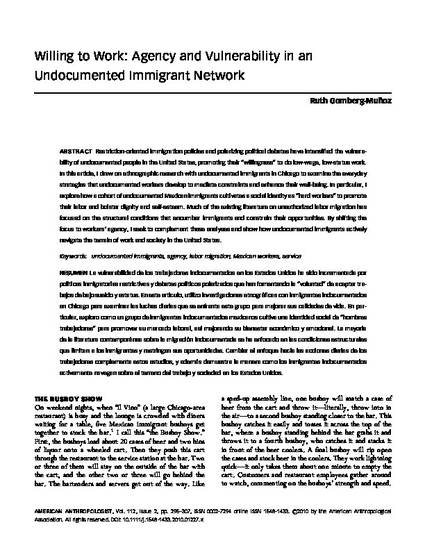 Article
Willing to Work: Agency and Vulnerability in an Undocumented Immigrant Network
American Anthropologist (2010)
Abstract
Restriction-oriented immigration policies and polarizing political debates have intensified the vulnera- bility of undocumented people in the United States, promoting their "willingness" to do low-wage, low-status work. In this article, I draw on ethnographic research with undocumented immigrants in Chicago to examine the everyday strategies that undocumented workers develop to mediate constraints and enhance their well-being. In particular, I explore how a cohort of undocumented Mexican immigrants cultivates a social identity as "hard workers" to promote their labor and bolster dignity and self-esteem. Much of the existing literature on unauthorized labor migration has focused on the structural conditions that encumber immigrants and constrain their opportunities. By shifting the focus to workers' agency, I seek to complement these analyses and show how undocumented immigrants actively navigate the terrain of work and society in the United States.
Keywords
undocumented labor,
agency,
labor migration,
Mexican workers,
service
Citation Information
Ruth Gomberg-Munoz. "Willing to Work: Agency and Vulnerability in an Undocumented Immigrant Network"
American Anthropologist
Vol. 112 Iss. 2 (2010)
Available at: http://works.bepress.com/ruth_gomberg-munoz/2/