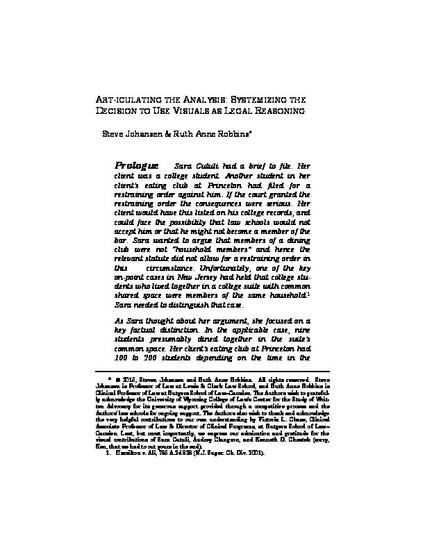 Article
Art-iculating the Analysis: Systemizing the Decision to Use Visuals as Legal Reasoning
Legal Writing Journal (2015)
Abstract
This Article first assumes that visuals belong and are ethically permitted in legal documents -- something explored by other authors -- and then begins to answer the questions of effective inclusion. The article explores the specific use of analytical visuals, which are those that do not attempt to prove what happened in a legal dispute, but instead help explain how the dispute should be resolved under the legal standards. Thus, the included analytical visual, when used effectively, creates a stronger understanding of the abstract legal analysis. The article suggests a taxonomy for categories of analytical visuals. It also acknowledges that many visuals are created for the attorney's own understanding and provides a rubric for attorneys to use when deciding whether to include visuals in the submitted advocacy document.
Keywords
visuals,
graphics,
images,
legal writing,
persuasion,
document design,
legal reasoning
Citation Information
Ruth Anne Robbins and Steve Johansen. "Art-iculating the Analysis: Systemizing the Decision to Use Visuals as Legal Reasoning"
Legal Writing Journal
Vol. 20 (2015)
Available at: http://works.bepress.com/ruth_anne_robbins/6/