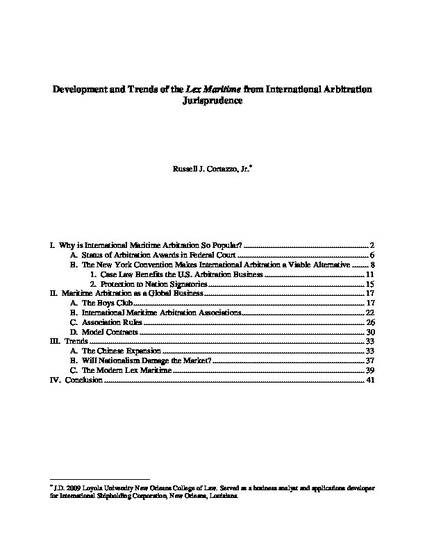 Unpublished Paper
Development and Trends of the Lex Maritime from International Arbitration Jurisprudence
ExpressO (2010)
Abstract
The international, maritime industry has been, and remains, remains a paradox of international cooperation and isolation, intense competition and camaraderie. Innovations within the industry are slow to be adopted, but spread rapidly when their commercial benefit is proven. The international maritime arbitration forum is one of those innovations that has taken root and is shifting the balance of maritime power across the globe. The popularity of international maritime arbitration is indicative of the quiet success of the alternative dispute resolution forum. Three factors are frequently attributed to the growth of the maritime arbitration market; the parties respect the proceeding, the judicial system encourages it, and the vast majority of seafaring nations enforce the awards. We are currently experiencing a golden age for the maritime arbitration market, but along with its rapid growth and popularity, unwise legislation may undo all the good. We are at a crossroads of market and government forces, and it is unclear if the market will be allowed to flourish or if competitive governmental forces will consume the goodwill that has been generated over the last fifty years.
Keywords
international arbitration,
maritime arbitration
Publication Date
March 3, 2010
Citation Information
Russell J. Cortazzo. "Development and Trends of the Lex Maritime from International Arbitration Jurisprudence"
ExpressO
(2010)
Available at: http://works.bepress.com/russell_cortazzo/2/