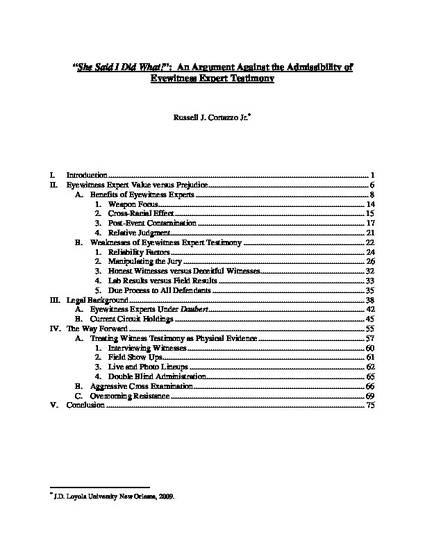 Unpublished Paper
"She Said I Did What!": An Argument Against the Admissibility of Eyewitness Expert Testimony
ExpressO (2010)
Abstract
Recent DNA exonerations of those wrongly convicted through inaccurate eyewitness identifications highlight the growing public understanding that eyewitness misidentification is not always perfect. In response, several states have enacted, with many others considering, eyewitness identification reform measures, such as allowing qualified psychological experts called "eyewitness experts" to freely testify on the factors affecting memory and the inaccuracy of eyewitness testimony. This article will first explain the effects of the eyewitness expert on the jury and the discrete factors the experts believe affect witness reliability. This article will then describe the problems in allowing the eyewitness expert to testify on witness reliability. Next, this article will summarize the legal background of eyewitness expert testimony. Finally, this article will propose that simple changes in identification procedures at the beginning of an investigation will improve the reliability and accuracy of eyewitness identifications, thus rendering the use of eyewitness experts in court unnecessary in most circumstances.
Keywords
criminal law,
criminal procedure,
expert witnesses,
eyewitness experts
Publication Date
March 3, 2010
Citation Information
Russell J. Cortazzo. ""She Said I Did What!": An Argument Against the Admissibility of Eyewitness Expert Testimony"
ExpressO
(2010)
Available at: http://works.bepress.com/russell_cortazzo/1/