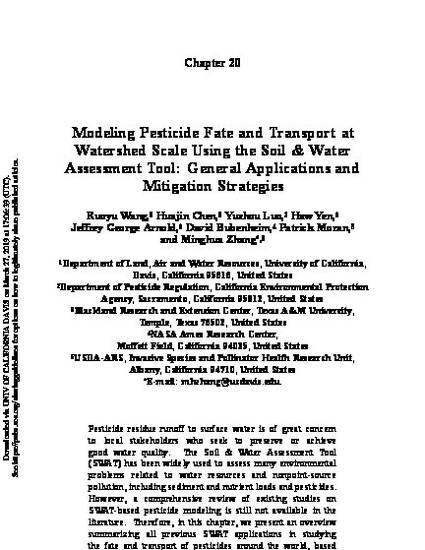 Book
Modeling Pesticide Fate and Transport at Watershed Scale Using the Soil & Water Assessment Tool: General Applications and Mitigation Strategies
(2019)
Abstract
Pesticide residue runoff to surface water is of great concern to local stakeholders who seek to preserve or achieve good water quality. The Soil & Water Assessment Tool (SWAT) has been widely used to assess many environmental problems related to water resources and nonpoint-source pollution, including sediment and nutrient loads and pesticides. However, a comprehensive review of existing studies on SWAT-based pesticide modeling is still not available in the literature. Therefore, in this chapter, we present an overview summarizing all previous SWAT applications in studying the fate and transport of pesticides around the world, based on the peer-reviewed literature. We aim to (1) introduce the fundamental mechanisms for SWAT pesticide modeling, (2) summarize the required modeling inputs and associated parameterization processes, (3) provide an overview of global applications and evaluate model performance, (4) discuss SWAT representations of mitigation strategies to alleviate potential pollution, and finally, yet importantly; 5) recommend future needs to address current modeling limitations to fill research gaps.
Publication Date
Spring March 26, 2019
Publisher
American Chemical Society
DOI
10.1021/bk-2019-1308.ch020
Citation Information
Wang R, Chen H, Luo Y, Yen H, Arnold JG, Bubenheim D, Moran P, Zhang M. Modeling Pesticide Fate and Transport at Watershed Scale Using the Soil & Water Assessment Tool: General Applications and Mitigation Strategies. Pesticides in Surface Water: Monitoring, Modeling, Risk Assessment, and Management. 1308. American Chemical Society, 2019, pp. 391-419.